Python graphics libraries for data visualization
Pandas
The Python Data Analysis (Pandas) Library is available under a BSD-style license. The name is derived from "panel data" and suits multidimensional structured data. The developers have optimized Pandas for speed and therefore implemented critical sections of code in Cython and C. Cython is an optimizing static compiler for Python and the advanced programming language of the same name. It creates compiled C programs that run several times faster than the source code in the Python interpreter.
Figure 7 compares the frequency of selected children's names; see Listing 3 for the corresponding code. After defining the required modules (Lines 1 to 3), you set the data to be visualized. Lines 5 and 6 define two lists, one with the name and another with the respective frequency.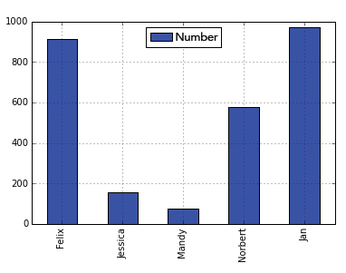 Using the internal Python functions list and zip, line 7 creates a two-dimensional dataset, from which Pandas generates a view in line 9. You need to assign the collected data to the data parameter, the data labels to columns, and the names defined in line 5 to index.
Pandas renders the frequency of the name along the y axis while outputting the name in the corresponding bar on the x axis as an identifier. The call in line 10 uses df.plot() and the parameter kind='bar' to produce the chart.
Conclusions
The Matplotlib, PyQtGraph, Bokeh, and Pandas libraries can help programmers convert abstract data to clear-cut representations with a reasonable amount of effort. Basic knowledge of Python considerably simplifies the use of these visualization libraries. If you are looking to create a specific look, you might need to experiment.
The featured libraries provide extensive capabilities and require a careful reading of the API to set the parameters correctly. Thus, you need patience and the motivation to work through the detailed documentation. The supplied examples will help you familiarize yourself with the order and effect of the calls.
comments powered by

Disqus
---
Support Our Work
Linux Magazine content is made possible with support from readers like you. Please consider contributing when you've found an article to be beneficial.
---