Sparkling gems and new releases from the world of Free and Open Source Software
Perf GUI
hotspot
Perf is one of those commands that desktop Linux users might not appreciate is so fundamental to their Linux experience. That's because perf is a tool aimed squarely at developers to help them peek inside their application's internals, as well as the internals of the Linux operating system itself. Running perf against the binary for an executable built with debugging symbols will collate everything that the binary does and where it spends its time. But perf is complex and deep, requiring good working knowledge of the underlying operating system and system calls to be most useful. This is why a GUI can be so helpful, and it's one the reasons why Qt Creator with its integrated Callgrind support (a tool similar to perf) is so popular.
hotspot is a new GUI for perf that does away with the need for a complex IDE if all you want to do is get a visual overview of what an application is doing. It can even open source files in Qt Creator, as well as Kate or another editor if you so choose. You need to generate the perf data first, which requires running your application against your choice of perf arguments. For example, running
perf record -e cycles,   instructions ./filmulator-gui
within the build directory of filmulator-gui loads the photo-processing tool and collates perf data at the same time. You then use the application just as you would, quit, and load the resultant file into hotspot. This immediately shows that develop() and LibRaw::median_filter() are the two post-processor-intensive functions taking up 30 percent of the cycles while the application is running. This behavior is what you'd expect, because these functions are presumably generating the image previews, but it gives you a good indication of where your efforts, as a developer, might go when improving performance. Which is exactly what perf is good for.
Project Website
https://www.kdab.com/hotspot-gui-linux-perf-profiler/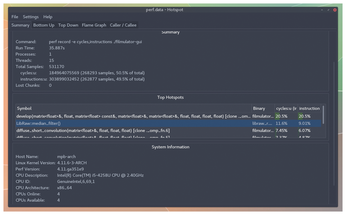 Material shader
comments powered by

Disqus
Visit Our Shop
Direct Download
Read full article as PDF:
---
Support Our Work
Linux Magazine content is made possible with support from readers like you. Please consider contributing when you've found an article to be beneficial.
---