FOSSPicks
Green Recorder 3.0
Like waiting for a bus, screen recorders are now appearing everywhere. They may not seem the most important kind of application you can install, but for those of us who occasionally share screen sessions, they're the difference between wanting to do it again or giving up entirely. This is because recorders deal with huge amounts of data – grabbing the contents of the display, maybe 4K or ultrawide, tens of times a second; synchronizing that with an audio source or two; and then saving the output as something useful, rather than a huge data dump. It has to do all of this without adding system load or getting in the way of whatever it is you want to record. This is why there are so many options and why so many of us opt to use SimpleScreenRecorder simply because it has proven itself to work well.
But Green Recorder, especially with this huge update, is a serious challenger to SimpleScreenRecorder. Of particular note is that it now supports the GIF format, and the image size has been optimized for the process – with claims of this conversion being 10 times better than the same process with FFmpeg. There's also a new Preferences window, and the overall design and simplicity of the user interface is one of Green Recorder's best features. You can easily see which audio input from PulseAudio to grab, for example, or change the desired frame rate, the file format, and whether the recorder follows your mouse. It's simple to use and capable of excellent results, and it caused no issues when recording from a huge composited Nvidia-driven display, complete with wobbly windows and spinning cube. If it can keep up this reliability and usability, Green Recorder is likely to replace SimpleScreenRecorder for those of us with secret YouTube channels. Plus, having a choice is always a good thing.
Project Website
https://github.com/foss-project/green-recorder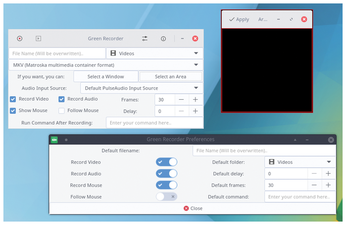 Android terminal
Termux
Termux is an open source terminal emulator for Android. Now, admittedly, Android has many different terminal emulators, but none come close to offering the power, functionality, and ease of use of Termux. Two parts of Termux make it so powerful. The terminal emulator itself works brilliantly. It's quick, it uses colors of your choice, and it adds neat options such as shortcut scripts that can be run directly from a widget on your phone. It also has one of the best input mechanisms I've seen, augmenting your default keyboard with a layer of keys essential for Linux: Esc, Ctrl, Alt, Tab, -, /, and |. Added to this, you can hold down the Volume Up key to access a whole host of shortcuts. Hold Volume Up+W, A, S, or D, for example, for cursor control. Volume Up and a number is a function key, and it's absolutely the best interface I've come across on Android for Linux terminals.
But the best thing about Termux is that it includes its own package manager, and you don't need Android root to add essential Linux utilities to its special chroot-like environment. These packages, which can all be found on GitHub, are specially built, and there are hundreds of them, from SSH to Vim; just type
pkg install <package-name>
and they'll be added to your Termux environment. You can even give Termux access to your Android storage, without root, so you can read and write to user-accessible parts of the Android filesystem. It all works perfectly, and you can even add a widget that hovers over any other Android screen for instant terminal action from whatever app you're using. It may sound like a gimmick, but after you create a few shortcuts for your servers and start editing configuration files with Vim (really!), Termux becomes about the most useful app you can install.
Project Website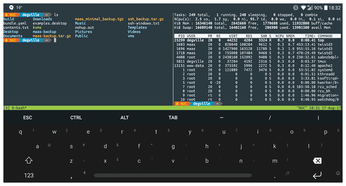 comments powered by

Disqus
Visit Our Shop
Direct Download
Read full article as PDF: