Self-hosting solution YunoHost for the private cloud
Tools
The Services category allows you to start and stop system services. Behind the Tools tab, you will find the settings for the firewall, as well as tools for diagnosis and system messages. You can also change the root password.
The Backup category lets you back up the system, user data, and applications (Figure 7). This function is still considered experimental, but it worked perfectly during the test, including restoring the data (Figure 8).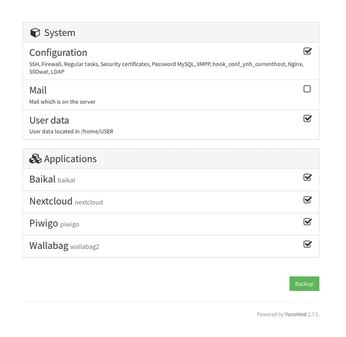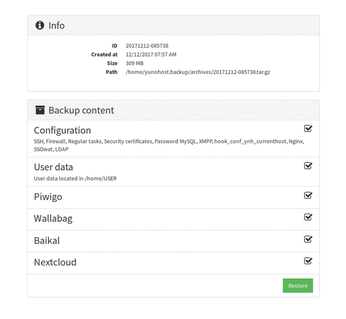 Access via SSH
You can check the results for yourself using SSH. The complete configuration of the server is under /home/yunohost.conf/, and the backup is located under /home/yunohost.backup. The system offers many more commands, options, and parameters via the command line than through the web interface. You can view these command-line options with yunohost -h.
In the initial configuration, administration via SSH is only possible as root, since the system manages the users via LDAP. A script and some other tricks help users reach the system via SSH [20].
In any case, I recommend that you protect the security of SSH access with a key instead of the root password and then generally prohibit the use of passwords for SSH. As soon as user access is working, you should also prohibit logging in as root in the /etc/sshd.conf file.
Conclusions
Opinions differ on self-hosting systems such as YunoHost: Some people think that such systems are created by lazy admins who are not familiar with server administration and thus endanger themselves and the Internet. On the other hand, many users need this kind of system to manage data on the network without external help.
The present system makes it much easier to set up a well-provisioned server, but responsible use still requires some knowledge, including securing SSH access, configuring DNS settings, and configuring a certificate with Let's Encrypt.
On a Rasp Pi, the system performs excellently. Well-considered details, such as a preconfigured Fail2Ban [21] to protect against intrusion or user administration via LDAP, are surprising positives. The large selection of apps covers all areas of web services.
YunoHost is suitable for home offices and small businesses. The distribution, which is very solidly set up with Debian as a base, might also work for larger assignments. The fact that YunoHost is free software and under active development means that it could have a very bright future.
comments powered by

Disqus
---
Support Our Work
Linux Magazine content is made possible with support from readers like you. Please consider contributing when you've found an article to be beneficial.
---