Open Source Tools for Writers
The Writer's Toolbox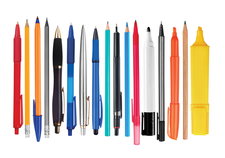 When it comes to writing, using the right tools can free you up to focus on your content.
Sooner or later, open source development comes to every field, and tools for working writers are no exception. However, if you search for the topic, you will find the lists of writing tools are full of apps that are no longer in development and have been dropped from most distributions.
Accordingly, here is a list of useful writing apps that are still available as of late 2018. Some have been around for a long time, while others are newer and little known.
BrainDump
Over the last two decades, over half a dozen tools for brainstorming have been released. However, if the proprietary ones are ignored, few free-licensed ones have survived. Technically, BrainDump [1] is one of the casualties, having been removed from Calligra 3.0, apparently because of a lack of developers.
Fortunately, BrainDump remains available in places like the Debian Stable repository. It remains useful in its current state for brainstorming maps that are almost as quick as pencil and paper (Figure 1). Its support for images, charts, and diagrams gives it a versatility that allows rapid, unimpeded development of ideas.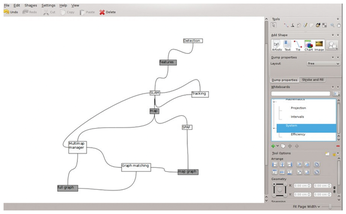 As an alternative, brainstormers might also want to look at VYM.
Zim
Longer works often require background material that the writer needs to know but which seldom finds its way into the story. This is especially true of fantasy. Often described as a desktop wiki, Zim [2] is a convenient place to store such information and to link files together for quick reference. For example, I use Zim to store files with information such as character and historical background, as well as names for different cultures in my fantasy novel attempt (Figure 2).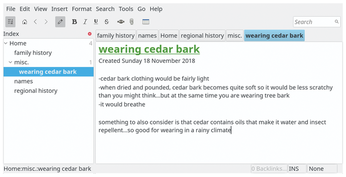 KDE users might use BasKet instead. Although BasKet advertises itself more humbly as an advanced note taker, its capacities are similar to Zim's.
Artha
Artha [3] promotes itself as an open source thesaurus. At first, I saw nothing in the app that suggested any benefit of being open source. Perhaps, I thought, open source's influence will only become evident over time, possibly in the speed with which new words and meanings update it.
Meanwhile, Artha is a comprehensive, local thesaurus with some valuable features (Figure 3). Like the online Thesaurus.com, it includes antonyms and alternate meanings. However, Artha also includes jargon, related words, pertainyms (forms of the word that are parts of speech, such as an adverb based on a noun), and derivatives (for instance, "clearing" for "clear"), as well as sound-alikes and regular expressions. Best of all, when you enter a word for lookup, Artha displays a drop-down list of meanings instead of going directly to an arbitrarily defined core meaning. This drop-down list allows me to use Artha as a concept thesaurus – one based on categories of meaning rather than words – which is by far the most useful structure for writing, although it is rarely seen these days. If that is not enough, Artha also has a hot key feature, which allows users to get a definition of a highlighted word on the desktop.
After discovering all these feature, I only then realized that the evidence of Artha being open source lies in its comprehensiveness – a long-time open source tradition. As soon as I discovered all it could do, within moments Artha became my online thesaurus of choice.
comments powered by

Disqus
---
Support Our Work
Linux Magazine content is made possible with support from readers like you. Please consider contributing when you've found an article to be beneficial.
---