Open Source Tools for Writers
Klipper
Klipper [4] is the clipboard in KDE (Figure 4). What makes it stand out is that it includes a buffer of previously copied or cut items to which it can revert with a couple of clicks on its icon in the system tray. This feature makes it ideal for copy editing when the same replacements are needed repeatedly. If necessary, items can be typed in to the buffer as needed. Why a similar buffer was not added to other desktops years ago is a mystery.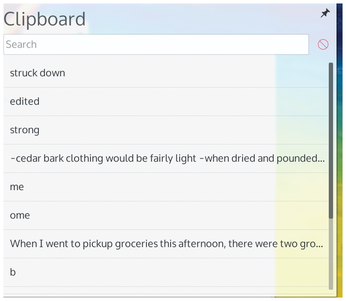 When I was a university instructor, I always told students that, if they had enough knowledge to use a grammar checker properly, then they had no need for one, except possibly to catch typos. Too often, the helpful suggestions can lead the unwary to further mistakes.
Diction
Diction [5] is an exception to this rule – and a surprising one, considering that it runs from the command line (Figure 5). What makes Diction an exception is that it flags words that are common in grammatical errors and simply gives you the general rules associated with them, leaving you to decide whether to apply them or not. Instead of trustingly clicking a button to make a change, users have to stop and think whether each grammatical rule applies. Mistakes are less likely, and, confronted with these rules, users may actually learn a few points about grammar.

Starting with a plain text file, Diction has the options to flag words associated with common beginner's mistakes and/or to suggest better wording. And Diction is thorough, averaging in my writing about 170 suggestions for about 2,000 words (most of which, I am happy to say, were false flags). In my experience, such thoroughness is unparalleled in grammar checkers, which makes the extra step of converting a file to plain text for the check well worth it.
Calibre
Many Linux users know Calibre [6] as a convenient app for storing and launching ebooks. However, if you are producing ebooks yourself, Calibre is also a one-stop app for editing ebooks and exporting them to multiple formats (Figure 6). The simplest way to edit ebooks is to write them in LibreOffice and export them to Calibre. Then, you can use Calibre to edit metadata, add graphics and tables of content, add new sections, and output the ebook to every major format. Armed with a knowledge of CSS, you can right-click to edit the raw code and validate it.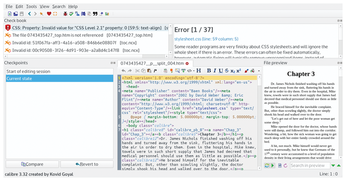 Calibre would be even more powerful if it included a guide to CSS tags. However, even so, it's a basic necessity for writers who intend to self-publish online.
comments powered by

Disqus
Visit Our Shop
Direct Download
Read full article as PDF: