Open Source Tools for Writers
LibreOffice Writer
LibreOffice Writer [7] may seem like an obvious choice, considering that it is a full-featured office suite. However, among those tools are several that are especially useful for professionals.
Admittedly, few editors accept manuscripts in LibreOffice's default Open Document Format (ODT). However, formatting for manuscripts is simple enough that exporting files to MS Word format is no trouble. Moreover, Writer also exports to PDF (Figure 7), with enough options to give you full control over the process. The last few releases have even started to support exports to ePub, the leading free ebook format. Although the support for ePub within Writer is still limited, ODF files can be imported to the Calibre ebook manager and then converted with acceptable quality to ePub, Kindle's MOBI, or any other popular ebook format.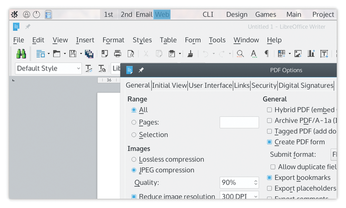 In addition, Writer supports comments and tracking changes, two features that enable collaboration of exactly the kind that happens between writers and editors or critiquing readers. Using these tools, writers can accept or reject revisions and easily access revisions from within their manuscripts.
For those who are writing very long books, Writer has Master Documents, which are documents that consist of multiple files. These files can be edited separately, which reduces memory requirements and allows writers to work on different parts of the complete document at the same time.
Likewise, professionals may find features like AutoText and personal dictionaries for spell checking and hyphenation useful. Should you want to self-publish, either online or to hard copy, Writer also has the tools for professional layout and design unmatched by other word processors. With this array of tools, Writer is indispensable for serious writing.
What's Missing
This list of applications is what I consider the best of the best. For example, there are countless text editors and word processors that I might mention. However some are free to use, but do not have free licenses. Neither have I mentioned any online tools, for the simple reason that when you are a writer with deadlines, the risk of Internet connection problems is too great, even though this only occasionally happens. Local apps are simply more reliable.
Also, I have left out most so-called writers' applications. Some, like FocusWriter, promise a distraction-free writing environment that I can get more conveniently in Bluefish or Vim, or even LibreOffice by using styles and templates – and at the expense of extra time spent reformatting for submission.
Another category I have left out are databases for fiction like bibisco. Such tools claim to help writers by peppering them with questions about characters, settings, unnecessary links, and organization. I remain deeply skeptical about such tools, because I have yet to hear of a professionally published writer who uses them. Just as importantly, they take much of the joy from writing for me, reducing the experience to something more akin to filling out a seemingly endless survey.
In the end, writing is about writing – or, failing that, streamlining necessary research so that you can return to writing as soon as possible. Properly used, the applications mentioned here should help you do just that.
comments powered by

Disqus
Visit Our Shop
Direct Download
Read full article as PDF: