Comparing image viewers for photographers
Slide Show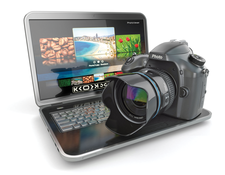 For today's photographers, image viewer programs are an essential piece of equipment, because they can help you quickly load and sort your photo and video files. We compare some of the top image viewers.
Imagine you've just returned from vacation and are sitting down to look at pictures from your trip. For anyone who enjoys photography, this can be a daunting task as you find yourself sifting through hundreds, or even thousands, of photos. However, this time-consuming process can go much faster if you use an image viewer rather than RAW developers or database-driven photo collectors, such as Darktable or Lightroom. What you want is an image viewer that can quickly load even high-resolution RAW images from full-frame DSLRs and that can also handle larger image collections.
In the open source universe centered around GNU/Linux, there are numerous candidates for this task, from simple image viewers without further functions up to genuine all-rounders with numerous image processing functions. In this overview, we focus on image viewers in the narrower sense, excluding RAW developers with image databases for managing photos such as Darktable or RawTherapee.
Requirements
An image viewer has one primary task: It has to display images on the screen. It should also be capable of handling exotic formats and loading the pictures at lightning speed. The output of Exif information – such as exposure time, aperture, and focal length – or a map with the position of the shot helps to classify the images.
For photomontage or more extensive retouching, there is no way around using a powerful image processor like Gimp. But if you simply want to straighten a horizon or crop the image, you don't necessarily need such a heavyweight. Here, image viewers with integrated image processing functions can be a good choice.
We tested a number of image viewers (see Table 1). Our tests were based on the following scenario: After a holiday trip, there are a few thousand shots from several cameras on a hard drive including snapshots from two smartphones, JPEGs and RAW files in CR2 format from a Canon 70D, and pictures and movies from a waterproof Olympus Tough TG-4. We wanted the programs to be able to provide an overview of all recordings, cope with all formats, and play back movies from the cameras. The application should be able to set tags or add a rating (e.g., stars) to images. Ideally, the program would store the information in the Exif tags of the material so that they would be available in other applications.
Gnome Photos

Geeqie

gThumb

XnView MP

nomacs

Basic Functions

Slideshow

+

+

+

+

+

Folder view

-

+

+

+

+

Print function

+

+

+

+

+

Video player

-

-

+

+

-

Image editing

Rotate

Rotate, Mirror

Comprehensive

Rotate, Mirror, Colors

Rotate, Mirror, Colors

Exif Functions

Exif data display

+

+

+

+

+

Edit Exif data

-

Comments, Tags

Comments, Date, Tags

+

-

Delete Exif data

-

+

+

+

-

Map with geo-position

+

+

+

+1

-

Ratings

-

+

+

+

-

Advanced Functions

Sidecar file handling

-

+

-

+2

-

Histogram

-

+

+

+

+

Find duplicates

-

-

+

+

-

1 Theoretically possible, but not functional due to bug

2 Configurable with appropriate settings
Gnome Photos
Gnome provides the Photos (formerly Eye of Gnome) [1] application for displaying images. Users of a Gnome-based distribution, such as Fedora or Ubuntu, will thus automatically find Photos on their computers. The Gnome environment's file manager automatically opens the application in the default configuration when you double-click on an image.
The left sidebar shows Exif data (Properties) as well as additional information (Details) or the location for the snapshot on a map. You need to retrofit the map function with a plugin. For example, you can install the eog-plugin-map package on Debian/Ubuntu or the eog-plugins package on Arch Linux and then enable the Map add-in below Settings | Add-ins.
An overview of all the images stored in the current image folder can be displayed by pressing I at the bottom of the screen (Figure 1). There are hardly any image processing functions. Photos only lets you rotate images in 90-degree increments. One special feature of Photos is that it works with touchscreens, so you can swipe from picture to picture or zoom into the picture with your fingertips.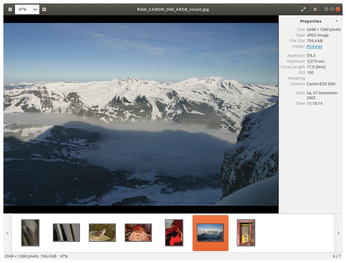 When it comes to perceived speed, Photos is in the middle of the field. The application opens individual images stored on an SSD without too much of a delay. To populate the image collection bar with thumbnails at the bottom of the screen, Photos uses the thumbnails created by the file manager. Once created, larger collections stored in a folder can be loaded quickly.
Geeqie
Geeqie [2] is one of the programs that undeservedly remains under the radar for many users. Also, many distributions ignore this small software gem and do not include it in their set of preinstalled applications. Geeqie deserves praise for its very small footprint and great speed, even on older computers lacking in system resources. Together with a number of practical functions for photographers, the program once derived from GQview [3] is recommended for daily use.
When designing the user interface, Geeqie's developers adhered to the typical structure of an image viewer with a browsing function (Figure 2). In the left column, you select the folder and below that the image to be displayed. The image then appears in large format in the middle; double-clicking on the file list enables a full screen display. Geeqie displays the associated metadata in the right sidebar. Depending on your needs, you can use the arrows to show or hide certain data groups or a map with geo-positioning information for the image as determined by GPS. Edit | Set up this window lets you adjust the arrangement of the individual elements as required.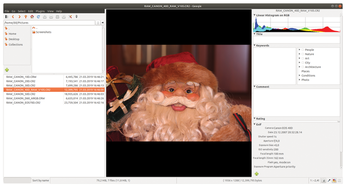 Geeqie recognizes sidecar files (see the "Sidecar Files" box). In the file overview, the application will display an entry such as IMG_1234.JPG+.CR2. If the snapshots are disappointing, you can delete both files in a single action as long as you do not turn off the dialog. If you want to perform an action only for the sidecar file, then first expand the merged files with the down arrow.
For any image, you may have other associated files. These sidecar files contains data (often metadata) not supported by the source file's format. Except for the file extensions, the source and sidecar files have the same name. If your camera is set up to produce both a RAW and a JPG file for every image, an image editing program could treat them as source and sidecar files. Another example of sidecar files would be an XMP file generated when working in Lightroom or Darktable.
The link between source and sidecar file is not lost on renaming (via the context menu or Ctrl+R) or moving the image within the application (via the context menu or drag and drop). This means that you can quickly weed out unsuccessful or unneeded images – even from a larger collection.
This task is also supported by the Sort Manager, which you can enable in the View menu. It gives users the ability to copy or move images to freely configurable folders with a single mouse click. Much like a physical light table, Geeqie lets you split the view into up to four fields using View | Split. This means that you can compare several similar images directly (Figure 3).
All told, Geeqie does very well in the field of candidates. The agile viewer is particularly impressive when it comes to cleaning up image collections. But Geeqie still does not support the X11 successor, Wayland: Instead of the selected image, only a white field [4] appears in the window. Users with Gnome as their desktop thus need to launch a classic X11 desktop via the gear menu with the option Gnome on Xorg when logging on to the system.
comments powered by

Disqus
---
Support Our Work
Linux Magazine content is made possible with support from readers like you. Please consider contributing when you've found an article to be beneficial.
---