Support for the Librem 5 Phone
CommunicationsTools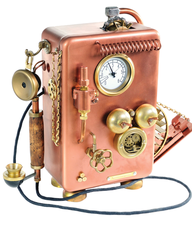 Ahead of the Librem 5 phone release, Purism releases a suite of communications applications called Librem One, including Chat, Mail, and more. But how accessible are these apps for average users?
With the release of the Librem 5 phone approaching, Purism has presented a foretaste of how it will be supported. Purism has released the first version of a suite of communications services called Librem One, consisting of Chat, Social, Tunnel, and Mail applications designed for privacy and encryption [1]. Although Purism has yet to reveal its plans for an app site to match Google Play or the Apple App Store, Librem One by itself is likely to be a key factor in the success of the Librem 5 or future mobile devices. Without such software support, the Librem 5's chances to survive in a saturated market would probably be slim – as the BQ Aquaris M10 tablet loaded with Ubuntu Touch proved several years ago. However, in its first release, Librem One manages to be only partially successful.
You may have already seen the promotional campaign for the Librem One services [2] (Figure 1). If so, ignore it. The campaign includes an ad featuring the voice of Linux podcaster Bryan Lunduke and the slogan, "We don't look at your junk." While the campaign must have seemed to someone a clever way to explain to unsophisticated users the importance of security and privacy, a charitable description of the ad would be that it is heavy-handed and full of repetitive adolescent innuendo. It badly misses the audience of early adopters, and feels badly out of sync with Librem One – not least because it suggests that the services are more user-friendly than they really are.
Instead, better to look at the Librem One campaign and roadmap directly. Users can sign up for a free account for Chat and Social, or pay $7.99 a month for a single account or a five member family pack for $14.99 a month for complete services that include Mail. Other services will be added as registration for the services rises: starting with Librem Files, and continuing with Backup, Contacts, Pay, and Dial. Given that the addition of Files kicks in at 50,000 backers – 10 times the number as I write, a quarter of the way through the crowdfunding campaign – these additional services may not be delivered for a while. Ultimately, though, the intention is to provide secure and decentralized replacements for everything from Facebook to Gmail and PayPal. The policy behind the Librem One services is terse, and to the point:
No Ads
We do not have advertising.
No Tracking
We do not track you.
We Respect You
We do not sell nor share anything. We do not build personal, social, nor behavioral profiles of people. We do not alter nor shape user behavior. We do not target people. We do not control people. [3]
Configuration
The Librem One services are lightly documented, but simple enough that most early users should be able to set them up with no more than minor difficulties. What has been released is Android and iOS versions of the services, which allow users not on Purism products to take advantage of them.
To set up an account, go to https://librem.one/accounts/login/ and set up a user profile (Figure 2). After creating a login name and passphrase, you are taken to a summary of account activity. In order to get the full experience, before going further, you might want to read the FAQ posted to the right of the account activity, which includes links to instructions about how to delete services like Facebook and Twitter.
Even more importantly, have a look at the Quickstart on the same page. It is the only documentation that Librem One currently has, aside from snippets of online help. The most important takeaway is that you must log in separately to each service to configure it, a tedious detail that could surely be replaced by a centralized login with options for those who do not wish to activate all the services.
Still, configuring each service does take users on a tour of Librem One, which serves as an introduction to what is available. The tour is worth taking, because the interface designers have taken some time to design a minimalist interface with well-positioned buttons. In fact, I would go so far as to say that the interfaces are among the cleanest I have seen on any mobile device.
Along with the apps, you may also want to download the Librem One Hub (Figure 3), so that all apps display in the same window. In addition, if you plan to encrypt, you should download OpenKeychain so that you create keys.
Librem Social
One of the best places to start becoming acquainted with Librem One is Social (Figure 4). Social is a Mastodon server [4] based on Tusky [5] – that is, it is an interface that provides a decentralized replacement for sites like Facebook. Start with a search for Librem, to give you a taste of how messages are displayed, and the different views you can have of a feed. As I write, Social is lightly populated compared to Facebook, but you can encourage friends to subscribe to a free account so that you can communicate with each other.
You can customize your Social display in a limited number of ways, including adjusting the text size, turning on an indicator for bots, requiring followers to be approved by you, and filtering the information displayed with each post. As always with instances of Mastodon, I wonder how Social would scale if it ever became as widely used as Facebook, but that is a problem for the future. For now, though, Social is a much better layout than Facebook's Messenger and is likely to remain so for some time to come.
Librem Chat
Despite a similar purpose, Chat (Figure 5) has an entirely different interface than Social, since it is based on Matrix [6]. However, this inconsistency does not seriously affect usability.
Like Social, Chat is a useful place to start exploring Librem One, thanks to the existence of numerous chat rooms. Librem One General Chat is an obvious place to start, although there are rooms for numerous social causes and technical discussions as well, many with several hundred users. These can be found in the Browser directory, which opens when you open the search field.
comments powered by

Disqus
---
Support Our Work
Linux Magazine content is made possible with support from readers like you. Please consider contributing when you've found an article to be beneficial.
---