Options for systemctl
Command Line – systemctl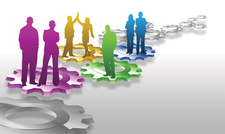 Every major aspect of a system that runs in userland can be controlled by systemctl, a command that acts on systemd's units.
Systemd has replaced init in most distributions for several years. Yet for many users, it remains mostly unknown. One reason for this obscurity is that, to avoid confusion, distributions hide systemd with aliases to traditional commands. It is only when you look into the intricacies of systemctl, a systemd command that views and manages a system, that you begin to appreciate how far-reaching systemd actually is.
Like other init systems, systemd's main purpose is to start and control services that must be started after the kernel – those that run in userland, as it is sometimes expressed. The difference is that systemctl's controls extend to other parts of a system as well and are far more extensive than init's or Upstart's controls. systemctl carries out these tasks by acting upon systemd's units. Units are often described – not very usefully – as objects that systemd knows how to manage. A more revealing explanation is by example. You can get a general overview from the different types of units, each identified by a suffix: .service, .socket, .device, .mount, and so on. For a more detailed example, enter:
systemctl list-unit-files
[...]
Use Express-Checkout link below to read the full article (PDF).
comments powered by

Disqus
Visit Our Shop
Direct Download
Read full article as PDF: