A lean distro for 32-bit processors
Dependency Errors
Some applications do not integrate directly into the system after installation due to outdated dependencies. Scripts integrated into the menu structure, as well as the classic installation via Synaptic, then abort with error messages. To be safe, open a terminal and enter the following commands to update the system:
$ sudo apt update
$ sudo apt upgrade
If you continue to receive error messages due to dependency issues during manual installation of applications or if you cannot find all programs in the Synaptic graphical front end, the repositories may not have been fully loaded.
In this case, open the /etc/apt/sources.list and append the following:
deb http://httpredir.debian.org/debian stretch main non-free contrib
After saving the file, run the update and upgrade commands again to update the repositories and the system. After doing this, the interactive scripts and Synaptic worked fine in my test.
You have access to several thousand packages from the individual repositories. If you use the scripts to integrate individual programs into the system, the corresponding entries then disappear from the menu structure. In their place, you will then find the new program.
Resources
To see if BunsenLabs Helium fulfills its promise of a full-fledged operating system for older hardware, we tested it on a 2005 HP Compaq laptop, with an Intel Pentium M single-core processor that runs at a clock speed of 1.86GHz with 2GB RAM and uses a PATA-SSD as mass storage.
On this setup, BunsenLabs Helium proved that you can still work productively on an antiquated computer. The resource requirements in terms of main memory and CPU load were kept within narrow limits, even when popular standard applications were running (Figure 6).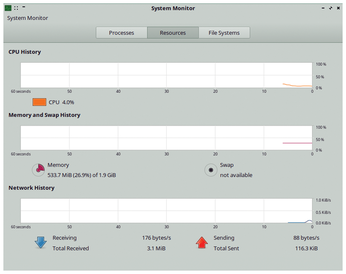 In contrast, clear latencies were noticeable when starting heavyweights like Firefox or Gimp. The latencies were due not only to these applications' resource requirements, but the Pentium M CPU (built into the test system) was incapable of multithreading. As a result, the system ran at full capacity when launching large programs.
Conclusions
BunsenLabs Helium delivers a respectable interface from the lightweight Openbox window manager that even supports compositing and visual effects. Thanks to Debian, the system is a stable workhorse. In everyday use, it impresses with extremely frugal resource requirements, which in many cases means that you can work smoothly even on older computers.
However, the user interface requires some basic configuration knowledge and is not as easy to modify as KDE, for example. For users who are looking for a lean but cleanly configured system for older hardware, BunsenLabs is definitely worth a try.
comments powered by

Disqus
---
Support Our Work
Linux Magazine content is made possible with support from readers like you. Please consider contributing when you've found an article to be beneficial.
---