System Monitoring with Glances
Colors
In general, Glances highlights the utilization values of the hardware with a colored background, where this makes sense. In this way, you as an administrator can see immediately where problems occur. The software uses four colors: Values highlighted in green mean that the utilization of the component concerned is in the low to average range. Blue indicates an already above average load.
If values appear in violet, you should take a closer look at the component in question. Finally, red indicates a clear problem. In this case, software warnings also appear at the bottom of the window. If necessary, you can modify the assignment of the respective load values to the colors in an individual configuration.
Configuration
The Glances configuration file is available in the /etc/glances/ or ~/.config/glances/ folder. Some distributions, such as Arch Linux, don't even create the file, but simply save a template in /usr/share/doc/glances/.
glances.conf is plain text only; you can edit it with any text editor (Figure 3). The configuration file, which is extensive but quite clear-cut, summarizes the individual setting options in groups. Thanks to meaningful naming of the options, even inexperienced users can easily adapt the file to their own wishes.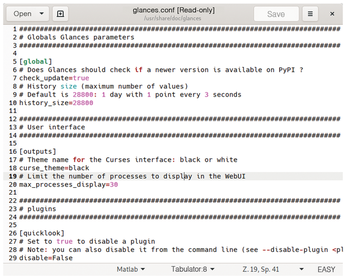 You can use the *_careful, *_warning, and *_critical variables here to define thresholds for the hardware load's color display. This means that Glances will warn you of even a relatively low load on critical systems, if so desired.
Data Export
Glances lets you export the acquired data for further processing in various formats, including JSON and CSV. To do this, launch the software with the --export parameter and specify the file name and path for the target file.
In some cases, data from Glances can also be transferred directly into databases. To do this, edit the configuration file accordingly to establish a connection to a database server. Detailed examples can be found in the documentation [4].
comments powered by

Disqus
Visit Our Shop
Direct Download
Read full article as PDF: