How Linux distributions are fighting COVID-19
Debian
Debian's response to the virus has been especially active. Veteran Debian member Joey Hess has gone so far as to write Quarantimer (Figure 1), a script for keeping track of packages that are being isolated before being handled [8].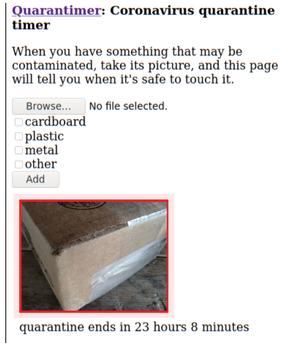 Debian's response as a whole has been mostly through Debian Med, a Debian Pure Blend distribution – that is, a version of Debian for a specialized purpose. Early in the pandemic, Debian Med organized a listing of its packages that are particularly relevant to the battle against COVID-19. These packages include a sequence assembler for genomes, a medical sequencer, and a modeler. Each package is annotated with descriptions, as well as notes on compiling and the stages of its development [9] (Figure 2).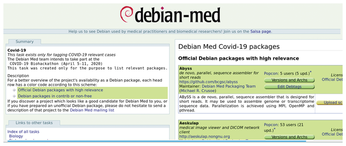 Debian Med held a week-long "Biohackathon" online [10]. The announcement for the event emphasized that, while contributions to packages are welcome, many of the tasks that are needed do not require a knowledge of biology or medicine. Instead, the plan was for developers to contribute bug fixes, testing, translation, and other routine tasks. The emphasis was on AMD64 and ARM64 solutions. The announcement added that "the Debian Med team is also trying to improve the availability of automated biomedical pipelines/workflows [robustworkflows] using the Common Work- flow Language open standard." After the Biohackathon, Debian Med urged participants to continue the interaction began during the event [11].
The FOSS Response
Distributions are not the only FOSS projects joining the fight against the pandemic [12]. Facebook is working to produce ventilators and other medical hardware. Predictive software like Nextstrain are also in development. In addition, the medical giant Pfizer has released the source code for some of its tools – and so have the makers of CHIME, another modeling application. What distributions offer is a wide variety of general software and hardware skills that can be directed where they are most needed. Linux distributions are not receiving much publicity for the work they are doing, but in this pandemic, FOSS projects are doing what they have always done best: useful work without profit motives getting in the way.
Is your distribution adding something that users should know about? Are your developers doing something interesting on the side? Let us know by writing to edit@linuxpromagazine.com.
comments powered by

Disqus
Visit Our Shop
Direct Download
Read full article as PDF: