Charly's Column – Stockfish
Charly's Column – Stockfish
In the absence of an IBM supercomputer at his data center in Germany's Lower Rhine region, Charly has to make do with a Linux desktop, Stockfish, and chs in order to follow in the footsteps of chess grandmaster Garry Kasparov.
Writer Raymond Chandler called chess "as elaborate a waste of human intelligence as you can find outside an advertising agency." But that doesn't put us off, does it?
In 1996, the media frenzy was huge when the Deep Blue chess computer developed by IBM beat the reigning world champion Garry Kasparov [1]. However, Deep Blue was also a veritable wall cabinet with power consumption to match. Today there are powerful open source chess engines for the home Linux desktop. One of the most powerful engines goes by the name of Stockfish [2]. It has been in development for more than 10 years and has now reached version 12.
However, Stockfish only provides the artificial chess intelligence. You also need a user interface (i.e., a game board). As a chess aficionado, I decided to use chs, which is written in Python. Chs lets you play against the Stockfish engine in your terminal. First, you need to install Stockfish and the Python installer pip before calling pip to install chs (Listing 1).
$ sudo apt install stockfish python3-pip
$ pip install chs
Then you need to tell chs where to find the Stockfish engine. This involves editing the .local/lib/python3.6/site-packages/chs/engine/stockfish.py file. The line starting with engine_path needs to be edited as shown in Listing 2.
[...]
elif 'Linux' in platform.system():
  engine_path = '/usr/games/stockfish'
[...]
All done. I can now type chs to start a game. You enter the moves in a line of text. The letter indicates which figure you want to move:
N = Knight
R = Rook
Q = Queen
K = King
B = Bishop
By the way, the word rook originally comes from Persian, where "rukh" means a chariot. There is no letter for the pawn, which is not necessary due to the limited move paths. To move the left white pawn two squares forward, simply enter a4. For the other chess pieces, you enter the name and the target square. "Rook to c6" is therefore Rc6.
Chs logs the moves in Portable Game Notation (PGN) [3], which is shown in Figure 1 to the right of the chessboard. Bxc6 means that the white bishop has been moved to c6; the x indicates that it has taken an opponent's piece.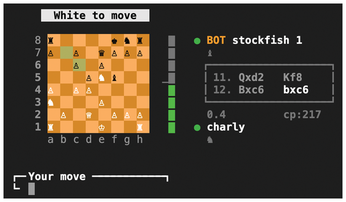 Chs doesn't have a stop clock, but no worries. The way I play follows a saying by the German writer Otto Galo. In comparing politics to chess, Galo said it's hard to make the best moves under pressure.
comments powered by

Disqus
---
Support Our Work
Linux Magazine content is made possible with support from readers like you. Please consider contributing when you've found an article to be beneficial.
---