FOSSPicks
Web browser
NetSurf
While it sadly seems that Mozilla's Firefox, and its Gecko web engine, are experiencing challenging market conditions, we're still a long way from the dark days of many websites only working in Internet Explorer. This is mainly because the Blink web engine, used in Google Chrome, Microsoft Edge, and Opera, may have become dominant, and it is still open source, with a long open source origin story. Several projects, including favorites like Nyxt (formally Next) and qutebrowser, take advantage of this via QtWebEngine. While those big corporations undoubtedly wield a great deal of influence over Blink's future, we're equally free to fork it and change it however we wish.
However, monoculture is seldom a good thing, especially when it comes to the World Wide Web, and that's why other web engines – both big and small – are so important. One such nascent and diminutive engine is called Kosmonaut. It doesn't yet render pages fully, but its rapid Rust via OpenGL bindings development looks very promising. But Kosmonaut isn't alone in this space either. At the other end of the scale is NetSurf, an old browser that's still being updated and still sports its own entirely unique web engine. It's an application that started life on RISC OS in 2002, and its cross-platform credentials are still a huge part of its appeal. You can run NetSurf on an Amiga, an Atari ST, BeOS, and even Samsung TVs. As you'd expect of something that still runs on a Motorola 68000 processor, it's fast. Launching the latest release on a modern Linux machine is lightning fast, as is the layout and web rendering. There's only one problem: Modern, complex websites look wrong. This is mostly due to NetSurf's "in-development" JavaScript handling, which still has a long way to go. As the text is still perfectly legible, however, this is often worth the trade-off.
Project Website
https://www.netsurf-browser.org/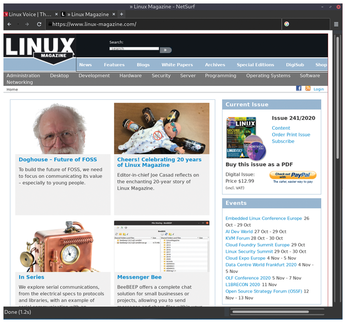 CPU scaling
comments powered by

Disqus
---
Support Our Work
Linux Magazine content is made possible with support from readers like you. Please consider contributing when you've found an article to be beneficial.
---