Virtual flash cards
Add-Ons
Anki can be extended quite easily with additional modules. A dedicated web page [3] lists numerous add-ons (Figure 6). These add-ons serve not only to visually customize the program interface and also extend the software with additional functions.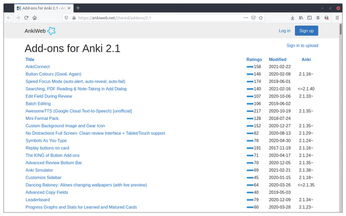 To install an add-on, select Tools | Add-ons in the menubar of the main program window. In the dialog that opens, you first see an empty segment on the left, where the integrated add-ons will appear later. On the right, there are several buttons for managing the extensions.
On the left side of the dialog, click Get Add-ons. Another small dialog will open where you click Browse Add-ons at the bottom. The application then opens the web page for the available add-ons. After clicking on one of the listed add-ons, you see a detailed description, including a specific code that you will find below the description. To install the add-on, enter this code in the corresponding field of the Install Add-on window. After clicking OK, Anki installs the add-on and adds it to the list view. To enable the add-on, restart Anki.
Import and Export
Anki lets you import data from various other learning programs and export your own data to other formats. Use Import and Export in the File menu for this purpose. Besides some third-party formats, Anki also has the ability to import media files and CSV files created with LibreOffice or OpenOffice. Since these need to meet certain requirements, such as a uniform character set, it is worth taking a look at the documentation before importing data.
AnkiWeb
AnkiWeb [4], a web-based variant of Anki, makes it possible to learn content and maintain the database independently of an individual computer.
However, AnkiWeb, which is primarily intended as a supplement to the locally installed program, only lets you create and learn with text-based flashcards. Different deck hierarchies and multimedia content are not supported by AnkiWeb. You also need to log in to the appropriate page first to use AnkiWeb.
The main goal of AnkiWeb is to back up existing flash card decks in the cloud and sync them across multiple computers. Anki does this by synchronizing the data files between the individual computers every time the application is opened and closed.
comments powered by

Disqus
Visit Our Shop
Direct Download
Read full article as PDF: