FOSSPicks
HiFiBerryOS
HiFiBerryOS is an open source Linux distribution, but not in the way most of us expect. It's a distribution designed to perform one specific function, and as such, facilitates neither the installation of extra packages nor the modification of its configuration. That one specific function is music playback, whether it's from Spotify, a roaming iOS device, a network-connected music library, Internet radio, or from any of several other sources. It's also a distribution that's been designed to work with the audio converters sold by HiFiBerry, but it works just as well with third-party converters, and, in particular, a DIY hacking board by Bang & Olufsen called Beocreate.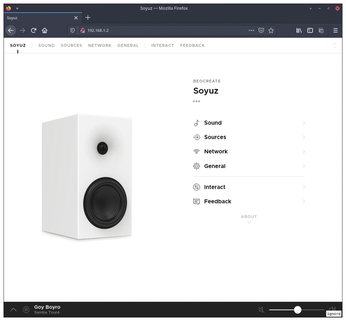 What sets HiFiBerryOS apart from other distributions is its razor-sharp focus. It has been designed to do nothing other than play music, and it does this by being immutable. This is why there's no package manager, and it only officially supports the Raspberry Pi as a platform. The system image is built using Buildroot. With the source available, it should be straightforward building your own for other platforms. You can also copy across your own binaries using the SSH connection. However, in concession to many people wanting more from their Raspberry Pi deployments (and the likely unused resource potential in devices such as a RPi4), the latest release of HiFiBerryOS also runs Docker, making it ideal for extra servers or web applications you might want to run safely confined without compromising the finely tuned integrity of the operating system.
For most users, none of this is going to be necessary. The default installation does everything you'll need to handle audio playback, and every important feature is accessible via a beautifully designed web interface. This lets you easily configure your network connection, which sources you wish to enable, before configuring your listening preferences. Its capabilities are dependent on your hardware, but you can typically assign channels to audio output, limit volume levels, and switch between and save listening presets. The digital signal processing (DSP) on the Beocreate, for instance, can be used to model speaker characteristics and even run your own audio-processing code, alongside a parametric equalizer, chaining playback to other devices and supporting room compensation. Room compensation lets you manually set the position of each speaker relative to your listening position, or automatically via a microphone, adding slight delays to ensure sound from each speaker reaches your ears at the right time.
Audio playback works without any further configuration. The open source spotifyd successfully takes over Spotify duties, and AirPlay from Apple's devices works perfectly, creating a seamless and totally transparent music playback system. The same is true of DLNA, OpenHome, Snapchat, Roon, and Logitech Media Server. There's an inbuilt Internet radio player, and you can also find Music Player Daemon (MPD) running in the background – its web UI does need to be enabled and started from the command line though. MPD can access local files and files mounted from a Samba source, either from an MPD client or the integrated Music browser, letting you host your own 24-bit FLACs for the true audiophile experience. As long as you've got the hardware to back it up, this creates an amazing, high-quality music playback system.
Project Website
https://www.hifiberry.com/hifiberryos/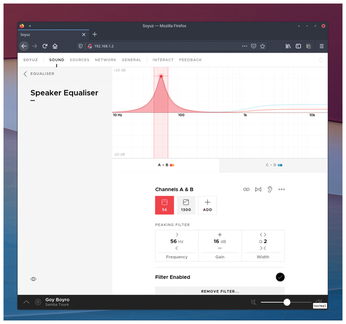 Retro RTS
Widelands
There was something special about the Settlers game on the Amiga. While 1993 may still have been early days for real-time strategy (RTS) games, Settlers was already able to transcend the established mechanics of resource management and war machines to create something that could be equally pastoral and relaxing. From farming to milling and building infrastructure, it was a game that let you create your own medieval enclave at a time before creative modes of gameplay were a thing. Of course, if and when you wanted to use your supply chain to build an army that would take over neighboring settlements, you could do that, too. But the huge attraction to Settlers was that the game eased you into all these gameplay elements without forcing you too quickly into combat or empire building. If you wanted, you could simply farm corn.
This approach must have resonated with many players, because the gameplay in Settlers and its superior sequel, Settlers II, is still being developed today, especially in Widelands, which has finally attained a 1.0 release. Widelands is an open source RTS game that's been heavily inspired by Settlers II. We even looked at a much earlier release many years ago, and the project itself is 15 years old. However, Widelands has kept up development and has kept expanding on the original concept. You still start with a small clan that you need to put to task cutting down wood, smelting iron, building roads, and setting up a trading network with any neighboring tribes. There's both a single player mode and a multiplayer mode, and this is where the real fun begins. You and your friends (or random denizens of the Internet) can equally choose to trade together or to destroy each other, all while building and expanding your own settlements and resource routes. Modern hardware means Widelands can do all this while managing potentially thousands of your settlers, each of which might be performing their own jobs or preparing for war.
Project Website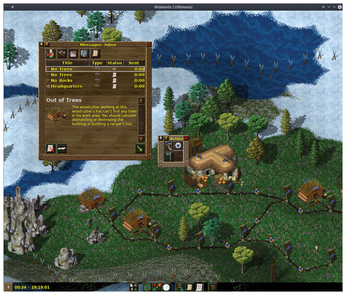 comments powered by

Disqus
---
Support Our Work
Linux Magazine content is made possible with support from readers like you. Please consider contributing when you've found an article to be beneficial.
---