FOSSPicks
LANDrop
There are many ways to share files, but the ad hoc, local file-sharing functionality found on Android and Apple devices has become very popular. This hasn't been easy to replicate on Linux – because people don't use Linux enough because it's missing features such as these. LANDrop is a refreshing change from the norm. It's an open source, ad hoc, local file-sharing tool that supports nearly all platforms equally, including iOS, macOS, Android, Windows, and Linux. It promises to seamlessly let you share files without giving up your privacy, going through an online proxy, or even using cellular data. You don't have to worry about how a third-party may intercept the transfer, and it does all of this while being open source. All the data required for a transfer is stored on your device, and the only data visible to whomever you are sharing a file with is the device name, type, and IP address. Even these can be turned off.
There are official apps for iOS and Android (the latter via a non-store APK), which makes transferring files with friends much easier, or you can, of course, build the package yourself. On the Linux desktop, after building and running the background daemon, the app will helpfully notify you that it's now running and can be managed via its small panel icon. From this icon, you can change your device name and whether your device is discoverable, along with where you want files to go. If device discoverability doesn't work, or you don't want to use it, you can also resort to sharing raw IP addresses, which obviously adds an extra technical step. This option is available when you choose to send one or more files, which can be listed in the Send to window before you simply click Transfer. Your files are then quickly and efficiently copied to the remote device.
Project Website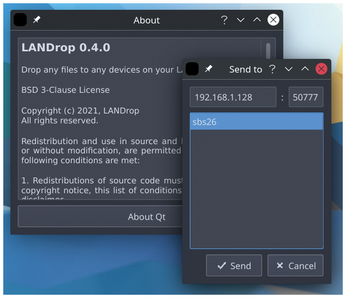 Technical text editor
KeenWrite
There are now (probably) more people writing words than ever before. Whether it's an email, feature specification, social media post, blog post, article, tutorial, or even a book, technology has liberated us. Any old text editor can be used for small documents, but as soon as you need to organize your writing, edit, reference your research, or single source a part for reuse, you typically need to find a more ambitious option. We've previously looked at novelWriter, a brilliant Markdown-based IDE for collecting your thoughts alongside writing and editing your words. KeenWrite is another writer's IDE, with a more unique proposition. It too offers a writing environment, but with a greater emphasis on the "development" in the IDE part.
What makes KeenWrite unique, and more like a programmer's development environment, is that it's a Markdown editor that uses string interpolation to separate and modularize the content you write from the presentation and layout. The main view is split into three panes, with the middle pane being the traditional editor, the right pane holding a real-time preview of the output, and the left pane holding variables. These variables are literally the key to string interpolation because they allow you to assign key and value pairs within a YAML-formatted document that can then be referenced and interpolated in the main Markdown document. A simple example would set a book's title as a string, with the string then used in the Markdown rather than the name itself. The book's title can then be easily changed as quickly as it takes to change the string name, which is always reflected in the real-time preview. The editor helps with all of this by offering autocomplete for the key and value pairs you define. The editor also integrates R syntax, SVG support, Mermaid, Graphviz, UML elements, Pandoc-like HTML div elements, and PDF output.
Project Website
https://github.com/DaveJarvis/keenwrite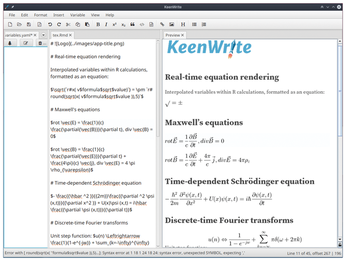 comments powered by

Disqus
---
Support Our Work
Linux Magazine content is made possible with support from readers like you. Please consider contributing when you've found an article to be beneficial.
---