Modern PDF security
pdf-redact-tools
Redaction is the removal of private or sensitive information prior to releasing a document to the public. Often used in conjunction with the release of official government documents, redaction is visible in blacked out words or paragraphs. In business, redaction may also be necessary, most often when an internal document is released to the public. pdf-redact-tools [6] aids redaction with three options. It turns each page of the PDF into a PNG file in a new directory, an operation that can also be done manually by converting a PDF into a multi-page TIF file. With --sanitize FILE (-s FILE), a script cleans up possibly sensitive file names, much like a bulk file renamer. However, the most useful option is --achromatic FILE (-a FILE), which converts color files to black and white to thwart identifying the printer a file is associated with by the use of unique printer dots – a practice that is little known to the public but widely known by civil rights groups and privacy experts [7]. This option, too, can be done manually in a graphics editor such as Gimp. However, having all these tools for redaction semi-automated and carried out by a single command is convenient. If you have trouble using pdf-redaction-tools, which is no longer maintained, search for other Linux redaction tools online.
pdfresurrect
The main use of pdfresurrect [8] is for viewing a file's versioning data. Using -w, you can view the versioning history, and -q returns only the number of versions that have been made. With -i, you can view the objects in the file, as well as details of how the file was created and who created the file, if available (Figure 4). Any of this information could be sensitive – for instance, the versioning could be used as proof that the file was changed, or the file creator could be used to assign blame for the content. To avoid such cases, you can use -s to scrub or redact all this information.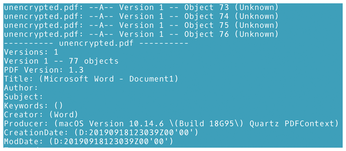 Modernizing PDFs
The PDF format, a relic from a more trusting age, is three decades out of date. While probably millions use its default permissions, these permissions are no longer adequate for more than the lightest of privacy and security. Today, the necessary encryption level has increased dramatically, and redaction was not even considered in the PDF standard. If privacy or security matters to you, I suggest that you use one or more of these tools with your PDFs. To do otherwise is to labor under a false sense of security.
comments powered by

Disqus
Visit Our Shop
Direct Download
Read full article as PDF: