Android in My Pocket

Productivity Sauce
Jul 09, 2009 GMT
Being a proponent of open source software, I've always found it annoying that the device I use most of the time -- my mobile phone -- runs some closed source proprietary system. Moving to Nokia N95 that runs the soon-to-be-open-source Symbian OS improved things slightly, but I still wanted to have something more Linux-like, open, and tweakable. That's why I followed with interest the release of Google's Android platform. The system itself did look rather promising, but, as it often happens, the first Android-powered handset turned out to be a somewhat underwhelming device. Worse yet, it has never made it to our shores. So imagine my excitement when I saw that one of our local 3G carriers started to sell HTC Magic running the latest Cupcake 1.5 release of Android. Although the phone is tied to a pricey plan and parting with hard-earned cash is never easy, I thought investing in HTC Magic would be a wise move. So say hello to the proud owner of a swanky Android-based mobile phone. I won't bore you with yet another review of the phone: there are plenty of good reviews floating on the Web (check, for example, reviews from TechRadar and AndroidCommunity). I'll just say that despite a few shortcomings (applications cannot be installed on an SD card, a non-standard connector, no easy way to take screenshots, the SD card is hidden under the cover), it is a very nice phone, indeed.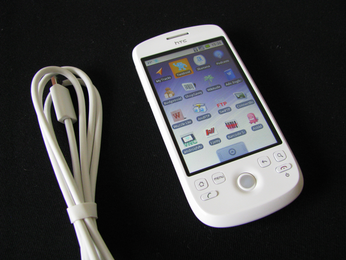 You might be wondering what all this means to you, dear reader. First of all, it means that from now on this blog will be covering productivity tools for the Android platform as well as tips and tricks for getting the most out of Linux on a mobile phone (Android is based on the Linux kernel, after all). So if you own an Android-based device, stay tuned for more blog posts you might find useful. If you don't have an Android phone, Android-related blog posts might help you to get an impression of the platform's capabilities and decide whether you would want to join the growing community of Android users. And I'm not talking only about phones here. Several hardware manufacturers are expected to release Android-powered netbooks in the near future, so we can expect to see the new mobile platform on other hardware devices. In fact, you can try Android on your machine already now, courtesy of the LiveCD Android project.
comments powered by

Disqus
---
Support Our Work
Linux Magazine content is made possible with support from readers like you. Please consider contributing when you've found an article to be beneficial.
---