Hotot: A Stylish Twitter Client That Packs Power

Productivity Sauce
Oct 07, 2010 GMT
Here is a question: Why would you want to try Hotot when there is a plethora of other Twitter clients out there? The answer is simple: Hotot offers a perfect mix of style and useful features. A pleasant interface gives you quick access to essential features and it sports slick transitions between screens. For each item in the timeline, Hotot provides shortcuts which you can use to retweet (Hotot supports both classic and new retweets) the tweet, mark it as favorite, and reply to it. Like any Twitter clients worth its salt, Hotot supports link shortening, although it can only use the default Bit.ly service.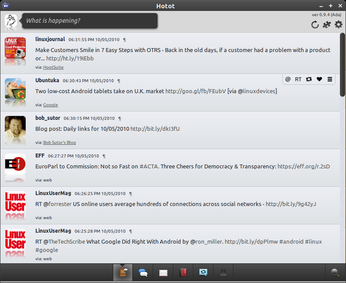 Hotot's default functionality can be expanded using extensions, and the current version of the Twitter client ships with three modules: Gmaps can be used to display the geolocation data of a particular tweet on Google Maps, Image Preview lets you preview attached images, Image Upload allows you to use Hotot to upload images to one of several supported services such as Twitpic and Twitgoo.
Similar to other Twitter clients, Hotot lets you view mentions, favorites, and direct messages, but that's not all. Hotot also sports the Retweets and Retweeted screen where you can view your tweets retweeted by others, tweets retweeted by you, and tweets retweeted by people you follow. The Search screen lets you find users and view their profiles and recent tweets.
Installing Hotot is not particularly difficult. If you are using Ubuntu, you can install the Twitter client using the following commands:
sudo add-apt-repository ppa:hotot-team
sudo apt-get update
sudo apt-get install hotot
The Installation How-to page provides detailed information on how to install Hotot on other Linux distributions. And using a simple trick, you can make Hotot work with Identi.ca. Open the Preferences window, switch to the Networks section, and replace the default URL in the API Base field with http://identi.ca/api.
Hotot is still at a very early stage of development, so it does lack some key features like the ability to handle multiple accounts. But even in its current form, it's a pretty capable and stylish Twitter client which deserves a closer look.
Comments
Hotot potential

This looks like it could be a really good tool. It's not yet ready for prime time as it won't build and/or run on Fedora 13 yet but, when the release rpm is out, I will be happily Hotot'ing away.

Side note: It would be nice if Linux resources like Linux Magazine would stop leaving out half of the Linux world in their articles.

.deb != Linux
comments powered by

Disqus

Issue 268/2023
Buy this issue as a PDF
Digital Issue: Price $12.99

(incl. VAT)