Wind River Brings Own Android to Market
Dec 08, 2009
Embedded specialist Wind River strives to win mobile network users with hardware compliance and its own Android branding.
Wind River is wooing mobile phone manufacturers with test runs and optimization that should make Wind River Android particularly reliable. The Android platform should run especially well on on the OMAP3 platform, but other boards should not present a problem for the mobile and embedded development vendor. Some of their collaborators already include Adobe (Flash), PacketVideo (multimedia player) and Red Bend (firmware over-the-air). New versions of Wind River Android should appear quarterly and concurrent with Android updates. The Intel undertaking will also naturally sell worldwide support for its mobile operating system. Prices have not been announced.
Wind River has already been busy with Android in the past. With the components of its newest Android offering, Wind River plans to optimize the Advanced Linux Sound Architecture (ALSA) for its hardware for Android and provide other hardware compatibilities as to multimedia and boot-time acceleration. OEMs and other providers can build in Wind River bootup and termination screens along with extended functions such as gesture options for calls and sending SMS messages. Another example is modified phone functions such as the short/long press behavior of hard and soft keys.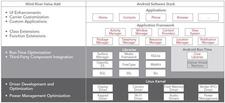 With Texas Instruments, that is also a member of the Open Handset Alliance and the Limo Foundation, Wind River, which was recently acquired by Intel, entered a stragegic partnership in, among other things, Android and OMAP (Open Multimedia Application Platform). In November chip designer ARM instituted its own Android project. Meanwhile Qualcomm set up a new Innovation Center "focused on mobile open source platforms," with Android just among a few others.
The Linux-based mobile network system enhanced its multimedia capabilities in September with its new Android 1.6. It also provided multiple account and sychronization functions in its latest major update to 2.0 in October. Its newest release is Android 2.0.1.
comments powered by

Disqus

Issue 272/2023
Buy this issue as a PDF
Digital Issue: Price $12.99

(incl. VAT)