Alternative file manager for Gnome
Divide and Conquer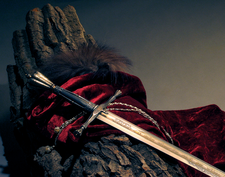 Twenty years ago, Peter Norton created a simple file manager with a split-view display. Can Gnome Commander inherit the veteran's crown?
Gnome Commander integrates seamlessly with the Gnome desktop, and in contrast to the standard Gnome file manager, Nautilus, it offers a split-view mode – with two directories in one window – that simplifies copying and moving files.
Points of View
One of the most strongly criticized features of Gnome is the "spatial view" approach used by the Gnome file manager Nautilus.
In the spatial view approach, a new window opens to display the content of a folder. If you dig deep into your file structure, this can really clutter up your desktop with excess windows. Thus, a split-view file manager, such as Gnome Commander [1], can be a blessing, especially if you frequently copy and move files and folders.
The ability to see the source and target directories in the same window (for example, see Figure 3) reduces the number of windows on the desktop.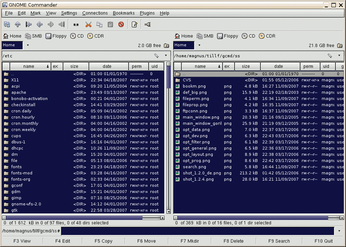 The Gnome developers also have discussed at regular intervals whether to implement a split-view feature for Nautilus – see the box titled "Split View" – but thus far, no definitive results have been forthcoming [2].
The first time Gnome Commander launches, you will see a clear-cut window with a toolbar that includes navigation buttons for fast scrolling, to launch file operations (such as copying, moving, or deleting), and to edit and mail files. The buttons also include fast access options for your home directory and Windows networks.
File managers typically display the contents of a single directory in each window. In split-view mode, a feature that Gnome Commander and other programs offer, the program displays two folders in a single window (Figure 1). Many users think that file operations are much easier in a split-view file manager than in single-view variants. Some programs – including the KDE 3 file manager, Konqueror – give users the option of displaying more than two directories in one window, but this can affect clarity.
Sub-Windows
Most of the window is occupied by two vertically tiled sub-windows, although you can tile horizontally if you prefer. To do so, go to the View menu and select Change to horizontal layout.
In the bottom of the window, you can access frequently used commands such as file View, Edit, Copy, Move, and Mkdir.
Also, you can enter commands directly, just as in a terminal.
If Gnome Commander is not set up to your liking, you can change it by going to Settings | Options | Layout (Figure 4). Here, you configure the program, starting with the font type and size, through line height and icon size, to themes.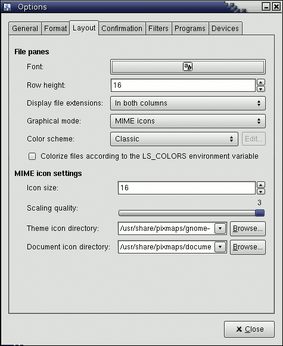 Filter
To specify file types that you do not want to view, you can use the Filter tab. The ability to store Gnome Commander passwords in the Gnome keyring (Network tab) takes the pain out of handling confidential data.
External applications that the file manager uses to display documents are entered in the Programs tab. To access different drives, define them in Devices.
comments powered by

Disqus
---
Support Our Work
Linux Magazine content is made possible with support from readers like you. Please consider contributing when you've found an article to be beneficial.
---