Chapeau Linux multimedia and gaming platform
Accessories Included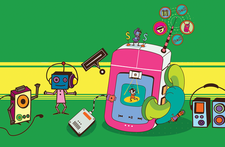 If you are looking off the beaten Ubuntu and Debian paths for a fast, multimedia distro with a Gnome 3 desktop, take a closer look at Fedora-based Chapeau Linux.
For many years, Fedora has been among the most popular Linux distributions. To take advantage of this free software-dedicated distribution on the desktop, however, you will need to make some manual adjustments, such as installing codecs, non-free firmware, or third-party software. The brand-new Chapeau Linux jumps into the breach here, offering a cutting-edge Gnome 3 desktop on a Fedora base along with many additional components.
Job Profile
Chapeau Linux [1] is quite demanding in terms of hardware requirements: The ISO image [2] is only suitable for current 64-bit machines. Additionally, in terms of the graphics card, it does not support solid home cooking by Intel; instead, it requires a powerful, dedicated graphics card by NVidia or AMD/ATI. The reason for this hunger for resources: Chapeau Linux addresses fans of multimedia content and gamers whose hobby naturally imposes very high demands on the hardware.
The developers already incorporate Steam and PlayOnLinux, including Wine, in the distribution out the box, so gamers can get started straightaway. Because of built-in codecs for various multimedia file formats and support for video DVDs and Blu-ray media, you can use Chapeau as a home theater without bothersome modifications. You can also install applications such as the Adobe Flash Player and a variety of cloud applications without detours to third-party repos.
Installation Obstacles
After you download the 1.8GB image, Chapeau initially seems extremely recalcitrant. Although the developer website explains in detail how to install the system on a USB stick in various ways [3] – my corresponding experiments with two different flash drives and the UNetbootin Live USB Creator and livecd-iso-to-disk tools all failed. Even using the dd command, I was unable to install a bootable system on the USB flash drive.
After burning the ISO to a DVD, another shortcoming was revealed: On several test computers with less powerful, but still current, Intel graphics cards, the distribution only booted in Troubleshooting mode with a rudimentary graphics driver that supports XGA resolution of 1024x768 max. In contrast, on two parallel test systems with graphics cards by NVidia or AMD/ATI, there were no problems.
Chapeau Linux boots into an Gnome 3 screen with the familiar controls, so you can try out the system in Live mode. If you then want to set up Chapeau Linux on your hard drive, you need to launch the familiar Fedora Anaconda graphical installer. You can access it via the drive icon in the application bar on the left of the screen. This panel appears after clicking the Activities button in the top left corner.
Gnome 3 Desktop
After completing the installation, you end up in a spartan Gnome desktop dressed in dark colors. A click on the Activities button top left in the panel opens the application bar, which contains the usual applications and tools. You can access the tiled view of all installed programs (Figure 1) via the Show applications entry in the application bar. Along with the standard programs for office, graphics, and the web, the major applications from the Gnome software collection are included.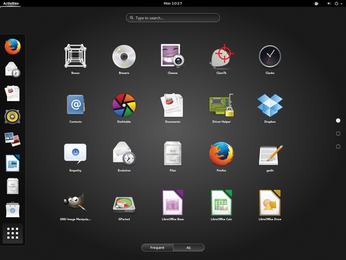 Also on board are a number of additional smaller tools, such as VLC media player, GParted, and some games. The Frequent submenu mainly contains administrative tools but also includes Adobe Flash Player. Chapeau Linux integrates PlayOnLinux and Steam, which are both gaming platforms, into the main view. You will also find the Windows-compatible Wine run-time environment preinstalled.
The brand-new Gnome Maps program, a topographic application, integrates maps from the OpenStreetMap project, thus removing the need for atlases. This JavaScript application is still a little slow in composing images; however, it does include several maps out the box, removing the need to download map material off the web.
In case of driver problems, especially those relating to video cards, the new Driver Helper software tool is available via the main menu, allowing a quick driver change without the need for manual work. The icon takes you to the Pharlap program (Figure 2), which provides single-click installation of drivers to handle graphics cards with proprietary interfaces. You can thus switch the appropriate driver on the fly, without painstakingly looking for suitable modules or having to download tons of proprietary software.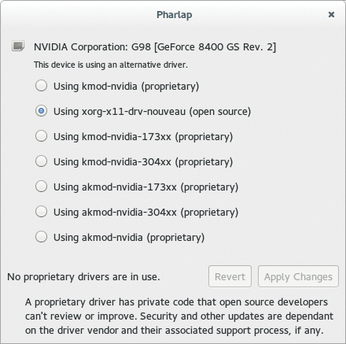 Additionally, Chapeau Linux clearly focuses on the easy use of cloud services. For example, you can click on the Dropbox entry in the program menu to install the proprietary Dropbox daemon from the Internet. Gnome document management via Documents provides a convenient tool for managing documents stored in the cloud. Also, the Kontact program provides easy access to online accounts.
In the multimedia field, Chapeau Linux impresses with its extensive features. You will find well-known applications such as GIMP, VLC, Brasero, OpenShot, Shotwell, Rhythmbox, Sound Juicer, and SoundConverter already set up on the system. The standard feature set also includes less well known but useful applications, such as the RAW converters UFRaw and Darktable.
comments powered by

Disqus
Visit Our Shop
Direct Download
Read full article as PDF:
---
Support Our Work
Linux Magazine content is made possible with support from readers like you. Please consider contributing when you've found an article to be beneficial.
---