Converting and opening legacy files
Colorful Index Cards
Until the late 1990s, many applications still relied on dBase databases. Among other programs, LibreOffice and OpenOffice can import these. Anyone opening a file with a DBF extension directly will land in the table module (Figure 11). To import the dBase file as a database, the user needs to start the database module, choose Connect to an existing database in the wizard, and select dBASE.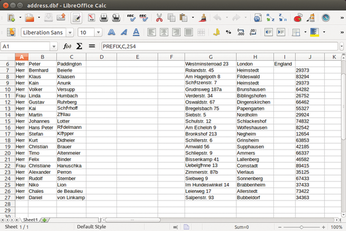 In the repositories of most distributions, you will also find the DBView command-line tool, which displays the content of a DBF file in a console. Programmers may be interested to know that numerous libraries can read and manipulate dBase files. A DBF module exists for Python, for example [11].
DBF is also useful as an exchange format because many applications use dBase files. Anyone who still uses Access databases can export them to a dBase format and then read them again using LibreOffice. On the other hand, Access databases cannot currently be used in Linux.
Krita and GIMP easily opened files from Photoshop 5, which appeared on the market in 1997, and even the layers were preserved (Figure 12). A drawing in Windows metafile format with the extension WMF was displayed by Karbon of Calligra Suite, but Inkscape lost the text.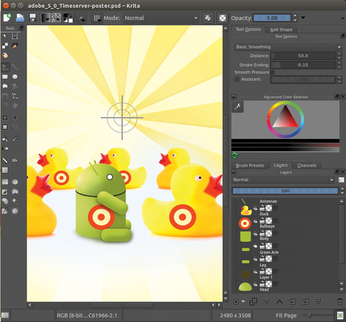 The current version of LibreOffice can open CorelDraw files with the CDR extension. The results, however, range from patchy to useless because the import filter is still in its infancy. For example, all the labels were missing in a chart, and another file threw a general input/output error. An alternative here is the UniConvertor [12] command-line tool, which is also provided by many distributions. The program can import drawings from CorelDraw 7 and newer and convert them into various other formats – including PostScript and SVG. Inkscape also incidentally uses UniConvertor for importing CorelDraw and Adobe Illustrator 5.5 files with the AI extension. The tool crashed repeatedly when trying to convert drawings sent to the test team.
Those who have EPS files written with Illustrator can view them with most programs that understand PostScript – for example, the Gnome document previewer. Ubuntu Nautilus even displays matching preview icons.
Newsprint
LibreOffice has officially opened files from Microsoft's DTP program Publisher since Version 4 – at least that is what the developers promise. When trying to open an older Publisher document with a PUB extension, LibreOffice 4.2.4 repeatedly terminated with an input/output error. We were unable to find another way to convert Publisher files with Linux (see also the "Service Providers" box).
Many service providers on the Internet offer to convert older documents. Conv2pdf [15] converts many Microsoft formats into PDF. The service even digests Publisher and old StarOffice documents. This conversion is free of charge as long as the files are no larger than 6MB. Competitor Zamzar [16] specializes in multimedia. They can even convert drawings from older CAD programs.
However, users should always bear in mind that they might be sending confidential information to a stranger. Nobody can guarantee that the service does not keep and evaluate the files – you need to trust the provider.
The outlook is not great for flowcharts from Corel Flow and documents from the Serif Page Plus DTP program, either – no solution is in sight for opening the files on Linux machines. Versions 5 and 9 of Serif Page Plus can, however, be launched with Wine [13] or Crossover [14].
The testers also had to give up on files from exotic Windows applications such as OpenEdge Architect and image files in Fractal Image Format (FIF). The latter uses fractal compression when storing and was designed to compete with GIF on the web. Documents from the SuperCalc spreadsheet (CAL suffix) are also impossible to open. TrueType fonts from the 1990s, on the other hand, can be integrated and used easily. (See also the "Emergency Kit" box.)
A text editor can sometimes help if a document can no longer be imported. You are likely to see a big jumble of characters. The importer normally finds the relevant text and data in it, which can then be saved to a new document using the clipboard. This task is a bit fiddly, however, and requires a good eye.
In an emergency, researchers can also retrieve the contents of files in the OpenOffice.org XML and OpenDocument formats without OpenOffice: The files have to be unpacked because they are ZIP archives. XML files, whose actual content is hidden in content.xml, come to the fore.
Conclusions
The tests confirm the rule of thumb: The better-known the application, the more likely its files can be opened today. Open and recognized exchange formats can be opened and processed without any problems. This applies to plain text files; audio material in uncompressed WAV files; JPG, TIFF, or PNG pictures; and CSV tables, as well as MP3 music or MPEG-2 videos. Anyone wanting to future-proof their files should therefore always archive a copy in a well-established format.
comments powered by

Disqus
---
Support Our Work
Linux Magazine content is made possible with support from readers like you. Please consider contributing when you've found an article to be beneficial.
---