Providing Windows and Linux applications with Ulteo Open Virtual Desktop
Mixed Doubles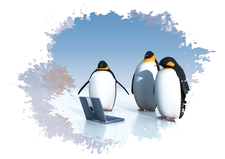 The Ulteo Open Virtual Desktop terminal server platform lets administrators serve up Windows and Linux applications over the network.
Ulteo Open Virtual Desktop is aimed at organizations that deploy Windows and Linux applications via a terminal server to classic desktops and mobile platforms. Thanks to new support for HTML5 in newer versions, Open Virtual Desktop now works without a client on a PC, Mac, smartphone, or tablet. In this article, I look at some new features available in version 4.0 and provide a guide to deploying Open Virtual Desktop.
Ulteo was founded in 2007 by Gaël Duval and Thierry Koehrlen. In the Linux and open source community, Duval is known as the co-founder of the Linux Mandrake/Mandriva distributions and Koehrlen as the co-creator of intalio.com. These two old hands set out with the goal of positioning Open Virtual Desktop (OVD) as a "non-proprietary, open source-based, secure and scalable platform for the deployment of desktops and applications" [1].
More a Terminal Server than a VDI
Admins can use Ulteo OVD to serve Windows and Linux applications on a common platform to their users across multiple systems (Windows, Linux, Mac OS, Android, and iOS). OVD is not a virtual desktop infrastructure (VDI) solution in the strict sense, but rather an server-based computing (SBC) or terminal server solution. According to its own announcements, Ulteo is working on adding VDI features with separate virtual machines.
The central element of the version available at the time of writing – Ulteo OVD 4.0.1 – is a session manager that runs on a Linux system. If necessary, OVD can use an LDAP connection to a central directory service such as Microsoft's Active Directory, Novell eDirectory/ZENworks, or a standard LDAP server. Application servers running under Windows or Linux deploy Windows and Linux applications and are connected to the session manager via HTTP.
To ensure that both native and web clients have access to applications and desktops, you still need a web portal server. For shared file storage in the Windows and Linux world, you can use a file server on either Windows or Linux that relies on the CIFS protocol to communicate with the application servers. If you also want to provide applications or desktops via the Internet, the SSL Gateway provides a security service that tunnels the relevant protocols through HTTPS.
All services are available as roles. Depending on the deployment and the expected number of users, each role can be installed on separate physical or virtual servers. The Ulteo system architecture is shown in Figures 1 and 2.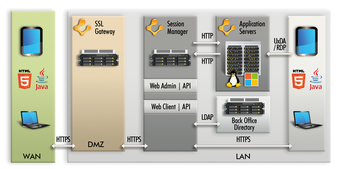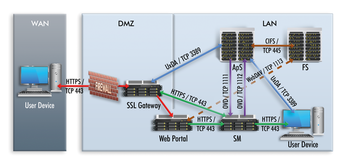 Premium vs. Community Edition
OVD is available in two versions: the free Community Edition and the commercial Premium Edition (see the "Pricing" box). The technical basis of both editions is identical, so administrators who want to delve into the product can easily begin with the Community Edition and change at a later date to the commercial version.
Ulteo does not publish prices on the website because the sales channel relies on value-added resellers. On request, however, Ulteo did quote some price examples. Licensing uses a subscription model based on assigned users/devices. OVD price examples for 12 months with the Premium Edition are: EUR1,125 for 25 users, EUR3,960 for 100 users, and EUR9,450 for 250 users.
Prices in US dollars for the Ulteo OVD Quick Start program, which provides the Premium Edition subscription, support, and education services, were found online only for the 3.0 version of the software as follows: $2,886/year for 25 users, $4,554/year for 50 users, and $7,400/year for 100 users.
The Premium Edition above all includes regular software updates, maintenance, support, and enhanced functionality. Specifically, the Premium Edition offers the following additional features compared with the Community Edition:
Support for native clients (Windows, Linux, Mac OS, Android, iOS)
Smart card support (two-factor authentication)
SSL VPN (OVD Gateway)
Local desktop integration (seamless mode)
For an even more detailed overview of the features included in each edition, consult a summary of the features on the OVD website [2].
For reasons of system performance and load balancing, Ulteo recommends installing various services on separate hardware. If you only need to support a handful of users with desktops or published applications, the services – with the exception of the SSL Gateways, which typically reside in the firewall's demilitarized zone – can be installed on a single host.
Ulteo provides a specially prepared package, or "Subsystem" (more on this later), for this purpose; it comes with a Linux application server, a file server, and a typical Ulteo desktop. The Subsystem is therefore also ideal for setting up a demo environment.
Client Queries
Users can access OVD either with a native client or through the web browser. As already mentioned, use of the native client is limited to the Premium Edition. Native clients are thus available for all major platforms: Windows, Linux, Mac OS, iOS, and Android. The web client supports Java and in the new OVD 4.0 version now officially also the HTML5 protocol. Thus, only a compatible web browser is required for accessing desktops and applications – the need to install plugins has been eliminated.
For access via a web client, the system first checks to see whether Java is installed. If the Java plugin is missing or disabled in the browser, the server automatically provides access via HTML5. The user can specify the preferred access method (Java or HTML5) on the login page below Advanced settings.
A good starting point for testing the HTML5 compatibility of your preferred browser is the HTML5 test site [3]. Internet Explorer versions 10 and 11 are not supported in OVD portal mode. Although the desktop mode works, it is so slow that it cannot be recommended.
In our tests, HTML5 connections worked perfectly with current versions of Chrome/Chromium and Firefox. However, a fundamental, browser-independent problem occurs in the use of the clipboard with Excel in HTML5 mode. If you cannot live with functional limitations in this area, you are forced to resort to the Enterprise Edition and to using a native client.
comments powered by

Disqus
---
Support Our Work
Linux Magazine content is made possible with support from readers like you. Please consider contributing when you've found an article to be beneficial.
---