AnyDesk in competition with TeamViewer
Working Remotely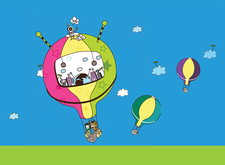 Remote control software is frequently used to work on remote computers and for group work. AnyDesk wants to gain a foothold in this niche with an innovative technical concept.
Many experienced PC users help family and friends manage and maintain their computers. However, if their family and friends live far away, they usually use remote access programs (also known as remote desktop programs). The software displays the remote computer's desktop on the local screen (in simplified form) so that the helper can work on the remote computer as if sitting in front of it. Typical functions of this type of software include screen sharing, remote maintenance, and file transfer; they also often allow audio and video chats.
Competition
The proprietary software TeamViewer [1] is the top dog among remote desktop applications. The company has developed a comfortable position in the market in recent years and provides its software free of charge for private use. Around two years ago, competition arose from within the company's own ranks: Three former employees put the proprietary tool AnyDesk [2] on the market. The developers wholeheartedly claim that AnyDesk is the fastest remote desktop application in the world and that it provides new dimensions for working on remote computers. The company behind the software, philandro, sees the software as the first of a series of products that aim to protect privacy and put cloud services back into private hands.
After the end of the one-year beta phase for the Windows version in the summer of 2015, a beta version was released in November for Linux and BSD derivatives. Despite being a beta version, the Linux version now has the same version number 2.1.1 as the Windows release. AnyDesk provides its software as a tarball with sources, as well as in the form of packages for Debian and its offshoots, various Fedora versions, Red Hat Enterprise Linux (RHEL), Mageia, openSUSE, and SUSE Linux Enterprise Server (SLES). Versions for other platforms, including Mac OS X, iOS, and Android, are already under development, although the developers have not yet named a release date.
Comparative Values
I tested the latest version for Debian and Windows in conjunction with various Linux guests and Windows 7 and 10. I didn't bother with benchmarks between the candidates: They aren't actually necessary for determining whether the candidate works faster and more stutter-free than its competitors or displays a clearer picture.
The manufacturer provides its own benchmark results in a PDF document that is available for download [3], which you should, however, treat with caution for obvious reasons. TeamViewer, RDP, Google Remote Desktop, Screenhero, Splashtop, and AnyDesk all compete with each other in this space.
Optimized Image Processing
The higher performance of AnyDesk in several areas is mainly apparent in two key areas. AnyDesk with DeskRT [4] uses a video codec specifically developed for transmitting graphical desktop interfaces for all platforms. It transmits screen content in a special compression process with up to 60 images per second, although the software is limited to the modified screen captures. AnyDesk also keeps up to 100 screen images in a buffer, which can be used when needed rather than being retransmitted.
DeskRT has been optimized further to compress large areas of color, high contrasts, sharp edges, repetitions of pixels, and moving image content, as are often found in graphical user interfaces. Additionally, the deep integration in the respective operating system, the optimization of multiprocess architecture, and AnyDesk's zero-copy design aim to ensure that the image data is transferred to the screen in as few processing steps as possible.
The server infrastructure, which allows the networking of AnyDesk participants outside the LAN, has also been optimized for using failsafe telecommunications applications. Based on the Erlang programming language, it provides a run-time system and a substantial set of libraries (OTP) for constructing high-availability systems.
A second point only concerns the Linux version. The AnyDesk developers created a native Linux application based on GTK, which is available for most distributions as both a 32-bit and 64-bit version. TeamViewer, on the other hand, relies on Wine as an intermediate layer – providing only half-hearted support for Linux and resulting in some disadvantages. However, perhaps spurred by the competition, the manufacturer has promised an increase in efficiency of up to 30 percent and file transfers that are 15 times faster in the new TeamViewer 11.
comments powered by

Disqus
---
Support Our Work
Linux Magazine content is made possible with support from readers like you. Please consider contributing when you've found an article to be beneficial.
---