Highlights of LinuxCon NA 2016
The State of the Penguin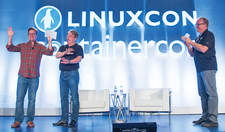 The Linux community gathered at LinuxCon NA 2016 in Toronto to celebrate the 25th anniversary of Linux.
LinuxCon North America – one of the biggest Linux and open source events – took place in Toronto, Canada, August 22-24, 2016. What made this LinuxCon important was the fact that it fell during the same week that Linux celebrated its 25th anniversary.
Keynote Highlights
The first day of the event began with a welcome keynote by the executive director of the Linux Foundation, Jim Zemlin. "We made it. 25 years. Quite an accomplishment," said Zemlin as he took the stage.
Zemlin reflected on the 25 years of Linux and said how Linux has changed the way we collaborate. "Today, you literally cannot make anything by building all the software you need by yourself." And, today, the vast majority of code in any modern technology product or service is open source.
The success of Linux has proved that "you can better yourself by bettering others at the same time," said Zemlin.
Dr. Ainissa Ramirez, science evangelist and author, spoke about the important role technology plays in shaping and changing our society. As an example, she described how before the invention of the telegraph, people wrote with exquisite detail in very long, elaborate sentences. After the telegraph, they had a more terse, sparse style. In a nutshell, new technology can have a deep, unintentional impact. Technology has become an extension of our brain, she said.
She made a call to the open source developers asking them to consider the result of different devices and inventions.
"You already have the right mindset for how to look at technology," she said. "You share it. You're open. You're inclusive. You know that many, many minds make things better than one mind."
Red Hat CEO Jim Whitehurst pointed out the close relationship between Linux and Red Hat. He said "…as I started to reflect on the history of Red Hat, it's really hard to talk about the history of Red Hat without talking about Linux. It's hard to talk about Linux without talking about Red Hat because the two, for so long, so closely have worked together and continue to work well together."
It was an event of historical magnitude as Wim Coekaerts, Corporate Vice President of Enterprise Open Source, Microsoft, delivered his keynote. Before joining Microsoft, Coekaerts was senior Vice President, Linux and Virtualization Engineering at Oracle and was known as Mr. Linux. It was interesting to see a hard-core Linux user talking about leading open source at Microsoft. In the talk, he described how Microsoft is contributing to open source and how its creating a level playing field for Windows and Linux.
Author and copyright activist Cory Doctorow delivered a popular talk about digital rights management (DRM) and the importance of licenses for the success of open source.
Brian Behlendorf, executive director of the HyperLedger project, talked about the importance of blockchain in the modern economy. Donna Dillenberger, fellow, Watson Research Center at IBM, explained how blockchain is being used by different industries and gave an impressive demo showing how IBM is using blockchain for its own supply chain transactions.
Conversation with Linus Torvalds
One highlight of every LinuxCon is the conversation between Linus Torvalds and Dirk Hohndel, a friend of Torvalds and now VP and chief of open source at VMware. During the conversation, Torvalds talked about a few times when he almost gave up on the kernel. He admitted that the arguments on the mailing list would get heated, and he would get so angry that he would consider giving up. "I decided I would be offline for a week because I [couldn't] take this anymore. Usually, the next day I'm back and things are better," said Torvalds. He also added that all of this occurred a long time ago, not within the last 10 years.
At the same time, Torvalds praised the Linux community. "We have thousands of people involved, and it's working great," he said. "We still argue. We're not all happy people. We don't love each other." But, he added, "there's a lot of respect for the technical side and things are working very well, in ways things have not always worked."
"You can just feel the fact that people want to work together and want to make a better system. That really makes for a great community," he said.
Hohndel asked what might happen to Linux if Torvalds weren't there. Torvalds said that this would have been a bigger problem some 15 years ago, but now there are many people who could take up the work.
"Most of the people who could do it, wouldn't want to do it, I think," said Torvalds. "There are people who have been around almost as long as I have been. There are people who are universally trusted and do a lot of the work today that could step up. My traditional answer is, hey, I will be there."
Women in Open Source Networking Event
Another notable event at the conference was the women's networking luncheon. It was exclusively for women, so I couldn't go, but my wife, who works for the U.S. Department of Defense and is a member of organizations like Lean In, attended. She found that it's a great opportunity for women in tech to connect with each other. Even more interesting was the format of the event. Instead of having an individual speaker or panel discussion, all the women in the room had the opportunity to introduce themselves and describe their role in the field. This approach turned all the women into speakers and listeners, and like-minded women swiftly connected with each other.
Another highlight of the event was Kids Day, a workshop for children. It was organized in partnership with MakerKids and Kids on Computers. I met with a few kids and their parents, and I learned that most kids were not even aware of the fact that they were using Linux on their parent's computers. Some kids, (not all), were excited to spend time on computer with other kids.
comments powered by

Disqus
Visit Our Shop
Direct Download
Read full article as PDF: