The sys admin's daily grind – Searx
Peppered with Hits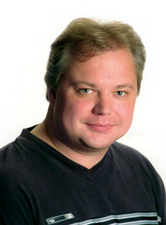 It goes against the economic rationale to assume that commercial search engines have the best interests of users at heart when it comes to data protection and use. Sys admin Charly has found an alternative.
Many Linux tools with low version numbers seem astonishingly mature and stable – and they are. Searx [1], which recently bounced up to 0.10.0, is definitely one of them. The developers describe it as "a privacy-respecting, hackable meta search engine." If you enter one or multiple search terms in the search box, Searx forwards the request to up to 70 online sources. The results show you the sources from which they originate.
You can individually sort the sources by topic or disable them, if needed. In the General field, you will find the major players: Google, Bing, DuckDuckGo, Yahoo, Wikipedia, and Reddit. For images, the results come from 500px, Flickr, or Deviant Art. If you are looking for music, the program taps into Deezer, Google Play Music, Spotify, SoundCloud, or half a dozen Torrent sites. IT gives you GitHub, Stack Overflow, and the excellent Arch Linux Wiki.
The Science category may be quite thinly populated, but it has some jewels in the form of Wolfram Alpha, Google Scholar, and Microsoft Academic. Base (the "Bielefeld Academic Search Engine) specializes in searching for and within scientific work. For example, a quick query for "adenosine triphosphate" provides three times more hits than a Google science search on scholar.google.com. If you like, you can prioritize results from open access sources.
Data Protection and Cookies
Searx also loads more hits when you scroll through the results. What's new in the current version is the ability to restrict the search to a specified time period (Figure 1). The developers are particularly proud of the fact that their tracker dog handles the user data with care. The Python source code is open, and Searx does not store user profiles. By default, Searx does not even store cookies. That only happens if you change settings and save the changes.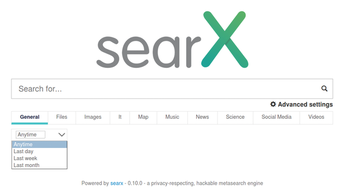 A couple of dozen Searx instances [2] worldwide are available for global use by everyone. The development team itself also runs an instance [3]. And, if you don't trust external services, you can simply build your own Searx server. Minimal hardware such as a Raspberry Pi is sufficient for this, and there is a how-to online [4]. There is no escaping the facts: Searx is amazingly mature for version 0.10.0.
comments powered by

Disqus
---
Support Our Work
Linux Magazine content is made possible with support from readers like you. Please consider contributing when you've found an article to be beneficial.
---