The best Plasma ever
Package Formats
The alternative package distribution systems Snap, Flatpak, and AppImage, which have been much discussed in recent times, also benefit from in-depth support in Discover.
The tool for Canonical's Snap format now supports Snap channels, which let you switch between different versions of an application installed as a Snap. If, for example, the developer offers alpha or beta versions in addition to the stable release, Discover now lets you seamlessly switch between the variants.
With Flatpack, Discover now notifies you when setting up Flatpak if the associated back end is missing and offers to install it. The handling of AppImages has been simplified, as thumbnails for this package format now automatically appear in the Dolphin file manager. For DEB packages, Discover now notifies you if the dependencies for a package change, packages are replaced, or they simply no longer exist.
You can find out about a package's dependencies by clicking on the application in Discover and selecting Show Dependencies (Figure 5). One of the new features is that applications can be sorted by publication date.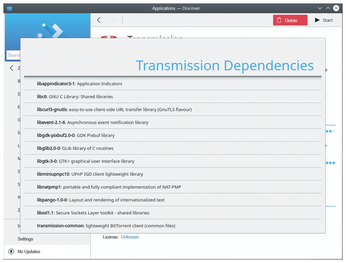 Wayland Making Progress
While the integration of the designated X11 successor, Wayland, has not yet progressed as far as at Gnome, the Plasma camp has shown some amazing progress in recent months. For example, in Plasma 5.12 LTS or 5.13, YouTube videos would not run, or support was very poor, using the new display protocol in our lab. In version 15.4.4, this now works smoothly.
In addition, Plasma 5.14 now supports the two Wayland protocols, XDG-Shell and XDG-Output. They provide for better application integration into the desktop and help handle multiple displays under Wayland. The developers also fixed problems with the clipboard between GTK+ and Qt apps. Many effects of the KWin window manager were revised to make animations smoother under Wayland.
Change Displays
A new Display Configuration widget makes it easier to handle changes in multi-display environments. You can now quickly make changes to the displays' arrangement (including projectors) at the push of a button, without having to open System Settings.
In addition, you can prevent a computer or projector from going to sleep abruptly by selecting Enable Presentation Mode. The Advanced Display Settings button takes you to the System Settings display section (Figure 6) for further adjustments.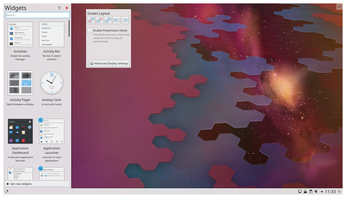 comments powered by

Disqus
Visit Our Shop
Direct Download
Read full article as PDF: