Zack's Kernel News
Zack's Kernel News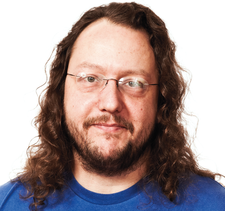 Chronicler Zack Brown reports on the latest news, views, dilemmas, and developments within the Linux kernel community.
Cleaning Up Dependencies on Older GCC Versions
When Linus Torvalds recently agreed to raise the GCC minimum supported version number to 4.8, it meant that any older system that still used older build tools, including older versions of GCC, wouldn't be able to compile new kernels without upgrading that software. The justification for his decision was partly that the various kernel ports had come to depend on later GCC versions and partly that the various Linux distributions had started shipping with later GCC versions as well. To Linus, this meant that regular users would almost certainly not be inconvenienced by the change; while kernel developers – well, Linus didn't mind inconveniencing them so much.
But it wasn't entirely an inconvenience to developers, as Steven Rostedt recently demonstrated. Now that GCC 4.8 was the new minimum, the kernel no longer had to support older versions of GCC that lacked some of the modern new features. The way this generally works is that the kernel build system checks which version of GCC is installed and then compiles certain kernel features that are specifically coded for that GCC version. This way, by hook or by crook, all kernel features get implemented, even if they have to work around deficiencies in an older compiler. When the older compilers aren't supported anymore, all of that targeted kernel code can simply be torn out by the roots, without anyone making a fuss.
Steven had noticed that function tracing had traditionally used two possible implementations: one using only GCC's -pg flag, and one using the -pg flag in conjunction with -mfentry. Everyone understood that -pg plus -mfentry was better, but the kernel build system had always had to support using only the -pg flag by itself, because older versions of GCC didn't support the -mfentry flag. In order to make sure function tracing was supported in all kernels, there needed to be multiple implementations: some using the excellent -pg plus -mfentry, and others using the less excellent -pg. Now that the minimum GCC version was 4.8, it meant that all supported GCC versions now implemented the -mfentry flag, so the -pg solution was no longer needed.
[...]
Use Express-Checkout link below to read the full article (PDF).
comments powered by

Disqus
Visit Our Shop
Direct Download
Read full article as PDF: