FOSSPicks
Foliate
It goes without saying that we love print, and it's great to see real physical and tangible books once again increasing in popularity after suffering somewhat at the hands of e-readers like Amazon's Kindle. But it's also true that digital content is very useful, especially for reference and archival material when travelling. In those cases, you need a beautiful, distraction-free reader application on which you can rely, such as Foliate. The best thing about Foliate is its wonderful GTK-based minimalist user interface (UI). In particular, it feels like an application that always puts the user-experience first, and what the user wants most of all is a zero-clutter portal to the words in the book. Foliate does this by defaulting to a simple, clear, and crisp two-page spread view and uses excellent font rendering with a simple configuration pane for font selection and size (alongside being able to select the publisher's own chosen font).
When reading, the progress bar beneath the pages shows the chapter markers and also lets you easily move from one page to the next or from one section to another, while always keeping your current location in mind. This can be easily turned off, and there are additional options to change the contrast of the view, switch to a dark or a sepia mode, or even adjust the brightness on any display. Selecting some text on a page lets you create an annotation, leave the text highlighted in a color of your choice, or even look up a word in a dictionary. There's a great bookmark system that mimics bookmarks in an application like Firefox. All of this is secondary to simply reading the text, but Foliate excels at these discrete optional extras and design.
Project Website
https://johnfactotum.github.io/foliate/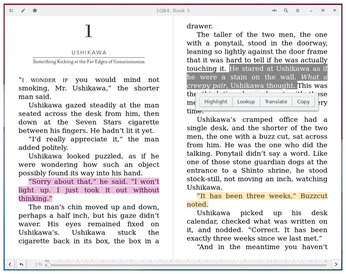 RSS reader
Newsboat
RSS, the XML-based synopsis of a website and a podcast's content won't die. It lives on, to fight through the next fashionable wave of social media, and this is definitely a good thing. RSS is a standard that isn't controlled by any one body and can't be easily subverted into a tracking or advertising platform. It remains a useful overview of new updates, without having to revisit a site to see what's changed, and many of us manage dozens of these subscriptions arranged and aggregated into categories. As fans of RSS, we've mentioned much of this before, but what we've not looked at is a command-line RSS reader that can bring all this RSS goodness to your terminal like Newsboat does.
With Newsboat, you first need to source your own list of RSS files, and the easiest way to do this is to import an OPML file. These files are typically generated by online RSS aggregators, and they're common in desktop RSS readers, too. Adding one to the import argument when you first launch Newsboat makes configuration almost instantaneous, which is the best thing about reading RSS on the terminal. Everything happens so quickly. With your feeds listed in the main view, pressing R will reload the state of every feed in your list, and this happens quickly even with dozens of feeds. You can then easily see which feeds have new posts and select these to see the title synopsis of the new stories. Selecting a story will then let you read the content, presented in simple distraction-free text. This is another advantage of the command line, as you're unlikely to be tempted to follow links as you might be with a web front end, which means you can quickly scan through your newsfeeds. It's a brilliant way of keeping up to date, and a great vindication for RSS and why it has remained popular, despite the new age of social media sites and walled gardens.
Project Website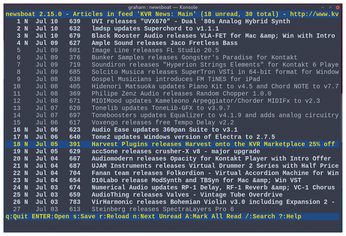 comments powered by

Disqus
Visit Our Shop
Direct Download
Read full article as PDF: