Shimmer dimmer
Charly's Column – f.lux
You don't have to be a vampire to be sensitive to bright light at night. Charly, who – as regular readers know – is a practicing light conservationist, now makes it clear to his desktop PC that it's not good to be too dazzling at night.
If you ask me, it has to be possible to adjust lighting to suit your needs in an unobtrusive and fully automated way. I enabled night mode on my Android smartphone. In the evening, the display shows an ever-decreasing amount of blue light as time progresses. At first, this seems a bit strange and takes getting used to, but it is very friendly on the eyes. Without night mode, I get dazzled when I unlock the phone. This is because its display – like most monitors – is adjusted to a color temperature of 6500 Kelvin.
Cirque du Soleil
Light with a temperature of 6500 Kelvin has a higher blue component than sunlight, which does not exceed 5800 Kelvin even on a clear day. For work during the day in a bright room, 6500 Kelvin is completely OK. In the evening with dim light, I feel as if my PC displays are so bright that work becomes tiring. Of course, I could manually adjust the brightness and color temperature using the buttons on my displays – but that is something that I want to be done automatically. My choice of dimmer goes by the name of f.lux.
Installing f.lux
F.lux is simply pronounced "flux". It is available as a command-line tool [1] or with a GUI [2]. I decided to go for the graphical variant. F.lux is written in Python 3, which means quickly installing some packages on my Ubuntu test system for it to run:
sudo apt install python3-distutils gir1.2-appindicator3-0.1 gir1.2-gtk-3.0
Guidance for other distributions can be found at the same source. Then I added the repository and installed the fluxgui package:
sudo add-apt-repository ppa:nathan-renniewaldock/flux
sudo apt update
sudo apt install fluxgui
At startup time, I had to tell f.lux my approximate geographic position (Figure 1). In return, it actually showed me a map, guessing my location based on my IP address. (It was about 100 kilometers away, but that was totally irrelevant from a lighting point of view.)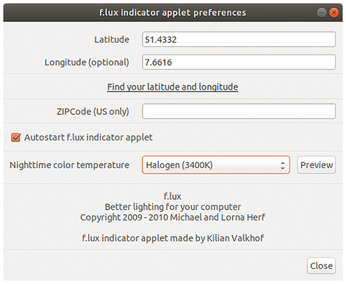 Then I specified the maximum color temperature to which f.lux can reduce the display at night. I initially chose 3500 Kelvin, which seemed to be warm enough in preview mode.
After a few evenings using the computer, I will know whether I need to readjust this value. In any case, there are enough options for this (Figure 2). Finally, to be on the safe side, I checked again whether the time zone and time are set correctly; I don't want f.lux to intervene at the wrong time of day.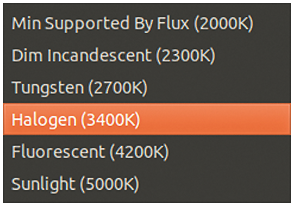 F.lux is also available for Windows and macOS. Enlightenments thus far: Everything is now to my liking in terms of illumination levels on the desktop – a great step forward for any light-shy Linux user.
comments powered by

Disqus
---
Support Our Work
Linux Magazine content is made possible with support from readers like you. Please consider contributing when you've found an article to be beneficial.
---