Tuning ntpd
Charly's Column – ntpd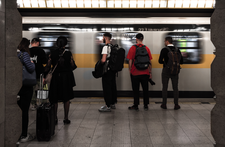 Charly Kühnast, sys admin columnist for 15 years, is searching for lost microseconds.
Time is the topic I'm focusing on right now. On the one hand, I am of course happy to be celebrating the 25th anniversary of Linux Magazine and the fact that I have been allowed to contribute this column for more than 15 years. On the other hand, I am currently working on configuring my time servers. In the last issue [1], I briefly touched on the topic when we looked at ntpviz, the statistics visualization tool for the Network Time Protocol daemon (ntpd).
How to tune the time server for maximum accuracy using quite simple means was the topic in the October 2017 issue [2]. (Is it really already two years ago? How time flies.) At the time, I picked up a high-precision pulse per second (PPS) signal from GPS satellites. This allowed me to line up ticks received locally or from remote time servers to achieve microsecond accuracy on my server. Apart from scientific applications, nobody really needs that, but it's cool, so it was done.
When I tackled this configuration back in 2017, it was still by a fairly circuitous route. Feeding the PPS signal to ntpd required additional software, which I found on GitHub. It's easier today. The two daemons involved, gpsd and ntpd, work hand in hand on my Debian 10 – and without any extra software.
[...]
Use Express-Checkout link below to read the full article (PDF).
comments powered by

Disqus
Visit Our Shop
Direct Download
Read full article as PDF: