FOSSPicks
FOSSPicks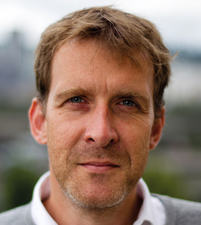 Graham looks at TreeSheets, rare, McFly, b2, DrumGizmo, A/B Street, Xmonk, and much more!
Information organizer
TreeSheets
Data organizers, note takers, and memory mapper applications aren't initially the most exciting tools to install and use. The results typically look utilitarian, maybe even a little prosaic, and seldom seem to spark the imagination in the same way 3D tigers do for Blender. But this is all a little unfair, because these organizers are only really limited by the person using the tool, and there are many times when a project is so big, an idea so convoluted, or a set of notes so unwieldy that you have to love any tool that can help straighten it all out.
TreeSheets is one of those tools. It's a note taking application that looks like it was designed in the late 1990s for whatever version of Windows worked best at the time (or KDE 2.x). This is mainly due to it using the latest wxWidgets. And while it has been under development for many years, 2019 finally saw the release of 1.0 and a move to a continuous integration build system, effectively making a new release available whenever new features are pushed to the code repository. But to prove you really can't judge a note taking app by its screenshot, TreeSheets is a more creative tool than a simple glance reveals. This is because while you can use TreeSheets to make notes and archive important pieces of data, you can also use it to organize, annotate, and grow your jottings in a logical and consistent way.
Each new document starts with an empty grid, much like an empty spreadsheet. Select a cell and start typing – the cell will expand dynamically to accommodate your text, as will the columns and rows. If you need to insert another row or cell between two ideas, you can do this by simply selecting the border between the two and starting to type. This is easily accomplished with the cursor keys, where you can move around the document without touching the mouse, but you can also click around the cells with your pointer. You can add images, too. While the text in a cell is designed to work like a single paragraph, there are no rules, and you can change the size and formatting of the text within each cell, even shrinking it down to microdot size if you find that a useful organizational idea. Cleverly, like the Inception of note-taking, you can also create grids within cells within cells. The whole document can be switched between the grid view, nested bubbles, and lines showing hierarchy – all using the same data within the document. It's impressive how quickly you can organize your ideas and see them as a nested set of lines and bubbles. All of this can be exported as HTML, which is great if you need an ad-hoc static site generator for your own ideas, and even XML if you need the ultimate format for keeping every chunk of information together in the most flexible and manipulable format.
Project Website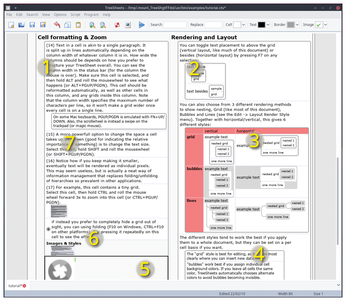 Virtual chanting
comments powered by

Disqus
---
Support Our Work
Linux Magazine content is made possible with support from readers like you. Please consider contributing when you've found an article to be beneficial.
---