Tools for collaborative office work
Working Together
Small businesses and organizations can benefit from products that expand on basic office suites to support collaborative work and that can be integrated with other services to suit individual business needs.
While complex systems such as customer relationship management and enterprise resource planning software are often used by larger companies and organizations, advanced office packages with collaborative functions are more suitable for small organizations.
This developing market supports a growing ecosystem of applications that are based on basic office suites and that enable extensive teamwork. Depending on the needs of your office, the functionality of these packages can also be extended with options that include integration with other applications and services.
The focus here is on ease of use. A further focus of development under Linux is on increased compatibility with a wide range of file formats. In order to comply with established standards, the goal is the best possible conversion of the widest variety of formats.
This article looks at products from two organizations, Collabora Productivity and OnlyOffice. Both companies offer cloud-based office suites, as well as infrastructures that rely on local desktop installation and on-premises servers (see box "IT Infrastructure").
In many companies, collaborative work in heterogeneous IT infrastructures has been the norm for years. However, different user needs and varying workplace requirements have created a very confusing market. In principle, three forms of IT infrastructure are suitable for modern cooperative workflows: cloud-based services, dedicated on-premises client-server infrastructure, or web-based applications that also access on-premises servers.
While the web-based services run in the browser and therefore do not require specific applications client-side, on-premise solutions, with their own clients and servers, are usually more complex to implement because they often include applications on the client computers. In contrast, cloud services are offered by various external service providers, who also manage the complete infrastructure as a Software-as-a-Service (SaaS) solution on a subscription basis.
On-premise solutions, on the other hand, benefit from the fact that they do not outsource the data and can therefore also implement user-specific data protection guidelines more easily. In addition, depending on the scope of the collaborative applications, they often prove to be more cost-effective than a cloud-based service in the longer term. Cloud services, on the other hand, require hardly any administrative support.
Collabora Products
Collabora Productivity [1], based in Great Britain, focuses on the enterprise market. Collabora Office is an office suite available for local desktop installation, and a package named Collabora Online is for cloud-based use.
However, both packages offer some additional flexibility. Collabora Online can also be used in an on-premises environment. It supports Nextcloud, ownCloud, Seafile, Pydio, and FileCloud environments, and the Univention Corporate Server also works with Collabora Online. For Collabora Office, two versions for mobile operating systems are available so that smartphones and tablet PCs can be integrated into a collaborative network.
The Collabora Online Development Edition (CODE) is a third option based on the Collabora Office core. It is offered as a developer version for on-premises solutions with Nextcloud or ownCloud. The online versions are intended for web-based client use – on the client computer, you only need a current web browser to edit and manage documents of any kind.
The underpinnings for all Collabora products are LibreOffice, which Collabora expanded with additional functions for collaborative work in a cloud environment. The company also aims to improve on LibreOffice's conversion filters for various formats.
The development edition is available for free, and the company offers the other Collabora products as part of a subscription in two price models based on the number of users [2]. Collabora assures long-term support for all commercial products. Discounts are available for multiple-year subscriptions, and there are options for support services and integrations that can be provided by local partners. Trial versions of the different cloud-based packages are available on the Collabora website.
Collabora Online
Collabora Online (Figure 1) integrates the modules Writer, Calc, and Impress from the LibreOffice package, so it includes the three most important office applications: word processing, spreadsheets, and presentations. The less frequently used modules Base (database) and Math (formula editor) are not included. For cross-platform use, the suite not only supports the Open Document Format (ODF) but also all newer Microsoft formats, which makes interaction with other office suites easier.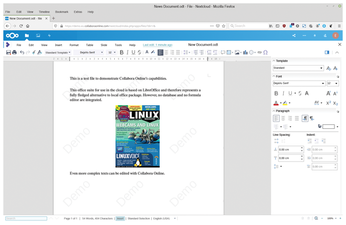 The editing functions of the individual modules are sufficient for the majority of daily office tasks. For example, scientific texts can be edited with integrated footnote and endnote management, and the suite also includes many templates.
Unlike the locally installed version or LibreOffice, there is no form management in Collabora Online, and this version also restricts the table functions available in word processing. However, it does include graphic elements, such as a numbering function and drawing lines, and users are able to add short text comments.
Compared to the locally installed office suite, the response speed may vary significantly when using the external cloud solution due to bandwidth fluctuations.
Importing and exporting third-party formats is not always a smooth experience with Collabora Online. Although the suite usually loads documents without any problems, in many cases some work is required to get imported files back into shape.
Layout errors occur even in ODF documents if the same fonts are not available on both systems, so using standard fonts is recommended. Collabora also does not execute Microsoft macros when importing online documents.
You will also want to use a different software solution for viewing PDF documents. As with other office suites, Collabora's import filters frequently cannot handle complex PDF documents.
Collabora Office
The desktop package is called Collabora Office, and it is available for Linux as a 64-bit version for distributions with deb and RPM package management. Localized help and language files are available for different countries.
Unlike the online version, the office suite for local installation also includes the Base database module and the Math formula editor. The office package also supports other third-party formats for which Collabora Online does not provide conversion filters. Visually and functionally, there is practically no difference between Collabora Office and LibreOffice.
Whether office solutions work in heterogeneous IT environments depends largely on the file exchange options, and the Collabora website highlights the quality of its conversion filters as compared to LibreOffice. However, when testing, we did not see improvements in document layout and formatting when importing the same files into Collabora Office. For example, the filter loaded slides saved in ODP format incorrectly for the most part, and even more sophisticated texts in Microsoft formats had a partially incorrect layout after being imported.
As with LibreOffice, the collaborative functions in Collabora Office include functions for storing and loading files on remote computers. You can add comments to any document for later editing. The comments appear as colored notes in a column to the right of the page view, with a line pointing to the associated text, and you can identify comments from individual users.
comments powered by

Disqus
---
Support Our Work
Linux Magazine content is made possible with support from readers like you. Please consider contributing when you've found an article to be beneficial.
---