On the DVD
On the DVD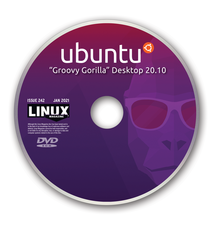 Ubuntu 20.10 "Groovy Gorilla" and Fedora 33 Workstation
Ubuntu 20.10 "Groovy Gorilla"
Codenamed Groovy Gorilla, Ubuntu 20.10 is the latest release in the popular desktop distribution. A short-term release, it will be supported for nine months until July 2021, with an easy upgrade path to the next release. The next Long Term Support (LTS) release is not scheduled until April 2021.
Like all Ubuntu releases, Groovy Gorilla draws many of its packages from the Debian Unstable repository. In keeping with the tradition for short-term releases, it contains no major innovations. However, Groovy Gorilla does include one or two new features that might interest the curious. Chief among these are WiFi sharing through the use of QR codes. In addition, should you like what you see on the DVD, you might try Groovy Gorilla as a desktop on a 4MB or 8MB Raspberry Pi.
Other noteworthy features are included thanks to the shipping of Gnome 3.38. For instance, users can now manually drag and drop icons. When more than nine icons are present in a folder, pagination keeps them from taking up room. Several new features center on the message tray, where upcoming calendar events now display below the calendar widget in the message tray and a battery indicator and reboot option now appear.
Groovy Gorilla is ideal for all levels of users, but especially for Linux novices and the moderately experienced.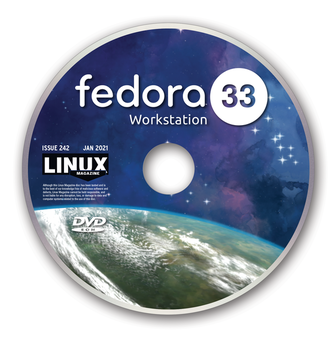 Fedora 33 Workstation
Fedora is both a popular community distribution and a testing ground for Red Hat Enterprise Linux and CentOS. However, even by Fedora's standards, Fedora 33 is one of the most innovative releases in years. Not only does Fedora 33 have numerous package updates and the enhancements of Gnome 3.38, but it also includes several modifications to key system components.
One of the most noticeable changes is a default to Btrfs filesystems. This change brings enhanced data integrity and compression, system snapshots, and support for multiple snapshots. Even more important is the increasing optimization and monitoring of the increasingly solid-state drives (SSDs). In addition, Fedora 33 uses zram for the swap partition, a move that frees up disk space and speeds up swapping. Another change is the use of systemd-resolved in the hopes of reducing differences between different distributions and providing network name resolution.
Note, too, that Fedora 33 will not install with Secure Boot. Thanks to the Boot Hole vulnerability, the certificate to sign Fedora's bootloader will be revoked soon and not replaced until the middle of 2021.
Fedora has provided a reliable user experience for years, and these innovations should not change that. However, the innovations do mean that Fedora 33 will have a special appeal to experts.
comments powered by

Disqus
---
Support Our Work
Linux Magazine content is made possible with support from readers like you. Please consider contributing when you've found an article to be beneficial.
---