FOSSPicks
FOSSPicks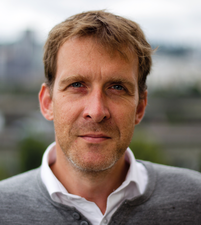 This month Graham reviews PeaZip, LibreSprite, NeoChat, Beaker, Giada, Thrive, Kurve, and much more!
Pixel editor
LibreSprite
Modern retro gaming, along with its associated aesthetic, is hugely popular in the video game world. From pixelated platformers to isometric role playing games, they're often some of the best new games you can play in any year. There are some AAA examples, such as the Ori games from Microsoft Studios, but the majority of retro-themed games are built with small teams and modest budgets. It's perfectly feasible for a developer and a designer to create an entire title between themselves, such as with the wonderful Fez or Cave Story. In such cases, open source software helps to keep costs down and functionality high. And in the realm of modern retro gaming, one of the best pieces of software is called Aseprite.
Back in the olden days of 1980s gaming, the physical computer or games console would contain special hardware for handling a small group of pixels in unison. These were known as sprites, and they could typically move around and scale without taxing the 1.023 MHz CPU, or without the developer needing to worry about overlap and redrawing the background. As a result, they were often used to move and animate the main character and enemies, as well as interactive parts of the background. The hardware limitations no longer exist, but the sprite development and gameplay mechanic are still a big part of game design, leaving artists with the tricky problem of drawing meaningful characters in a 32x32 grid in the modern era without getting hold of an Amiga.
Aseprite is one of the best sprite editors built to solve this problem; a brilliant retro design tool that allows artists to draw in huge squares with a fixed palette and animate from one frame to the next. Aseprite was once open source, but moved to a proprietary license in 2016 and remains successful. Vitally, however, Aseprite was forked from its last open source commit, resulting in the creation of the LibreSprite project, which also continues to this day. It features a very similar retro-themed user interface that focuses on a tabbed canvas with an initially empty pixel matrix. On the left is the palette with a color selector, while a floating window shows a 1:1 view of your artwork. Drawing is as simple as click and drag across the blank canvas. Layers can also be added, enabled, and disabled from a lower panel, as can frames when creating an animation.
Animations are built by making slight changes in each frame, and there's an onion skin option to show you previous and next frames while you're drawing. There's a tiles texture mode to help with repeating patterns, such as grass or water, as well as with shading, filled contours, and polygons. When finished, your work can be saved as industry standard PNG, ASE, and even GIF files. It works in a very similar way to the ancient Deluxe Paint 2, running on the Amiga, albeit with a larger color palette and smaller default image size. Also just like Deluxe Paint, it's a lot of fun to play with regardless of whether you have any drawing talent or not.
Project Website
https://github.com/LibreSprite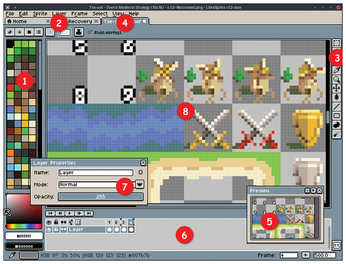 Chat client
comments powered by

Disqus
---
Support Our Work
Linux Magazine content is made possible with support from readers like you. Please consider contributing when you've found an article to be beneficial.
---