Build a minimal Raspberry Pi OS from source
Raspberry Pi DIY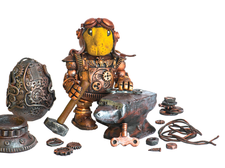 The detLFS project provides an ideal foundation for compiling Linux from source code, either to experience the fundamentals of how Linux works or to prepare an operating system for a project with very specific requirements.
The Linux From Scratch (LFS) project has been around for more than 20 years [1]. It does not deliver software as a result, but detailed instructions on how to create an executable Linux system from the source code itself. Why might you want to take this route? (1) You might be a masochist with too much time on your hands. (2) You have a project with very specific requirements. (3) You want to learn fundamentally how Linux works. The detLFS [2] project by Thomas Dettbarn answers these needs.
Unlike the pure theory of LFS, detLFS makes life far easier for anyone wanting to take on the challenge because the project provides a set of scripts instead of a manual. The scripts create a runnable, minimal Linux system for the Raspberry Pi almost without interaction. As a prerequisite you need a desktop Linux with the usual build tools (i.e., a compiler and make), as well as ImageMagick/Netpbm for your own kernel logo. These tools can be found on any normal developer's computer; if in doubt, install them from your package manager. They are typically pseudo-packages named build-essentials, or something similar.
Simply downloading the repository and running the scripts is boring and basically pointless, because nobody gains anything from the minimal system the process creates. Understanding the process and knowing how to adapt it to your own needs is far more important.
[...]
Use Express-Checkout link below to read the full article (PDF).
comments powered by

Disqus
Visit Our Shop
Direct Download
Read full article as PDF: