On the DVD
On the DVD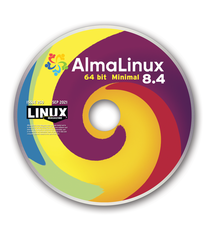 AlmaLinux Minimal 8.4 and SystemRescueCD 8.03
AlmaLinux Minimal 8.4 (64-bit)
After three decades of Linux, you might think there are no reasons for a new distribution. In the case of AlmaLinux, however, you would be wrong. First released on March 30, 2021, AlmaLinux is intended as a replacement for CentOS, the popular Fedora derivative.
Why a replacement for CentOS was necessary is a complicated story. Essentially, it dates to Red Hat's acquisition of CentOS in 2014. Since the acquisition, the relationship between CentOS and Red Hat Enterprise Linux has been uncertain. The uncertainty reached a climax in January 2021 when Red Hat announced without discussion that development of CentOS would be discontinued by the end of 2021, except for the upstream CentOS Stream. Reactions were partisan, but some concerns were also practical: CentOS is most often installed as a server, and sys admins were abruptly left without an upgrade path. The solution was two forks of CentOS – Rocky Mountain Linux and AlmaLinux.
AlmaLinux quickly formed the AlmaLinux Foundation to ensure ongoing support for its project. A major partner in the foundation is CloudLinux, which is likely to have a major influence on the future development of AlmaLinux. Meanwhile, AlmaLinux has promised to support the newly released AlmaLinux 8.x releases until at least 2029 (the numbering continues on from the CentOS numbering).
If you are curious about how AlmaLinux continues CentOS in other ways, this month's DVD gives you a chance to explore AlmaLinux Minimal 8.4.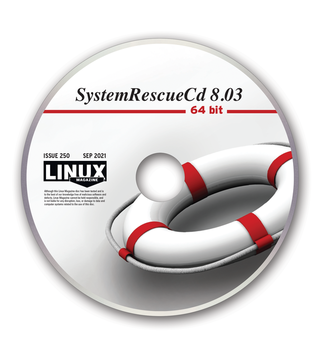 SystemRescueCD 8.03 (64-bit)
As the name implies, SystemRescueCD is not a distribution for daily use. Rather, it is a bootable disk that you can install on a DVD or flash drive for use when troubleshooting or repairing a system. It includes an impressive array of command-line tools, including standard editors, the Midnight Commander file manager, the GParted filesystem, network filesystems such as Samba and NFS, and many more too numerous to list. In addition, its kernel supports numerous filesystems, including ext4, XFS, Btrfs, VFAT, and NTFS.
You will not need SystemRescueCD every day, but you should consider keeping a current copy nearby and checking periodically that it still works. If you run into trouble, you'll be glad you took the time. And one more thing: Because it is a Live system, SystemRescueCD can help you manage Windows machines as well.
comments powered by

Disqus
---
Support Our Work
Linux Magazine content is made possible with support from readers like you. Please consider contributing when you've found an article to be beneficial.
---