FOSSPicks
FOSSPicks
This month Graham looks at Surge XT, Kröhnkite, MQTT Explorer, Mandelbulber v2, Simutrans, and more.
Software synthesizer
Surge XT
We've looked at previous versions of the Surge software synthesizer before, simply because it's been developing, changing, and improving at an incredible pace. This release is no different, with the project even adding the "XT" letters to its name to show the significance of the update. The synth itself is one of the best sounding pieces of software you can install, proprietary or otherwise, with only the equally amazing Vital able to challenge it for sound complexity and quality. But Vital, being a "spectral warping wavetable synthesizer," is quite esoteric both in the way it sounds and in the way you coax sounds out of it.
Surge is just as capable, and sometimes just as complex, but the audio path and signal flow are more traditional and easier to follow. Sound starts in the top left of the window, where a small panel lets you tab between three oscillators. The oscillators are based on the classic sawtooth, square, triangle, and sine shapes, but they can all be tweaked and morphed using the shape, width, and submix sliders in a lower panel. As soon as you move a slider, the waveform display updates to show the new shape and, of course, you can hear the results immediately if you play your computer keyboard or MIDI device. The amplitude of each of these oscillators is mixed into the patch using another panel of vertical sliders to the right of the oscillators, and this includes additional sliders for noise and two sets for "oscillator multiplication" to create robotic and metallic timbres.
To the right of these sections are the filters which are used to impart character on the raw oscillator sound, either by removing harmonics or by emphasizing them. Surge has two wonderful filters that can be configured to run in serial or parallel and in other configurations, according to a very neat adjustable flow chart. The same flow chart approach is also used for frequency modulation, and it's a brilliant way to visualize what is often difficult to understand and hidden from the user in other synths. The filters themselves sound amazing, and there's a large selection to choose between, including those that sound like the classics from Moog, ARP, and Oberheim, and modern hybrids too.
Modulation, where one signal changes the value of another, is another key element in synthesizer design because it's used to generate both sounds, such as with the ring modulation effect and frequency modulation, and to change the values of parameters in a sound over time. The middle and lower parts of the main window are dedicated to a matrix of modulation sources and destinations, plus a variety of LFOs, sequencers, and envelopes. Almost anything can be set to change anything else, letting you create hugely complex patches in the same way you can with a modular synthesizer. But unlike modules, Surge is polyphonic, supports MIDI Polyphonic Expression (MPE), and runs as an LV2 plugin or as a VST. And we've not even mentioned the effects that can be added to the sound output, which include beautiful reverbs and delays, a vocoder, tape simulator, distortion, flangers, chorus, and even a Nimbus effect, which is itself heavily inspired by the open source Mutable Instruments Clouds granular effect Eurorack module. It sounds amazing.
Project Website
https://github.com/surge-synthesizer/surge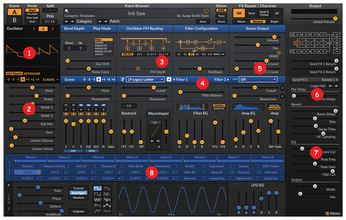 Tiling window script
comments powered by

Disqus
---
Support Our Work
Linux Magazine content is made possible with support from readers like you. Please consider contributing when you've found an article to be beneficial.
---