A New Puppy Is Born

Productivity Sauce
Oct 06, 2008 GMT
Although the Productivity Sauce blog is all about, well, productivity, I'm willing to make an exception and mention the newly released Puppy Linux 4.1. I've been using this lightweight Linux distro on my ASUS Eee PC 701 for quite some time, and it helped me to be productive wherever I went.
While the new release sports only a minor increase in version number, it does feature a few significant improvements. The new release is available in two flavors: the "retro" version of Puppy Linux comes with the older 2.6.21.7 kernel for better compatibility with older hardware, while the stock version ships with the newer 2.6.25.16 kernel. Puppy Linux 4.1 offers better hardware detection, improved PCMCIA and modem support, and faster boot. New applications in this release include the Psip VOIP application, the PPLOG blogging engine, the Pmusic audio player, the Ayttm instant messenger, and the Xfprot virus checker. The Network Wizard has been thoroughly reworked, making it even easier to configure wired and wireless network interfaces.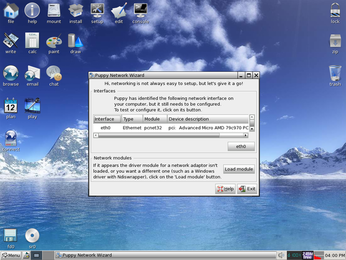 The 4.1 release is also the last release by Berry Kauler in his role as a "Benevolent Dictator". Barry has announced his retirement from the Puppy Linux project, and he will gradually transfer Puppy Linux development duties to a group of trusted developers. I truly hope that this transition will be smooth, and I'd like to thank Barry for giving us such a fantastic distro.
Comments
The Genius Barry

Puppy is about the only distrette (small distro) that runs on ALL my pc's, whatever their age or cpu or RAM or whatever. Even on my AMD64, either via CD or HD or USB, hupla, it runs as always.
I think there are drawbacks: it has no relationship with WINE whatsoever, it doesn't work. But it offers everything a usual pc owner could use. I admire two maintainers: the one from Mint and this Barry with Puppy. The later is the only dictator I ever appreciated very much.

Barry

Barry did a fantastic job and produced a wonderful distribution. He has been by far my favourite dictator.

Kudos to Barry

Barry made it in a great way

comments powered by

Disqus

Issue 269/2023
Buy this issue as a PDF
Digital Issue: Price $12.99

(incl. VAT)