Distraction-free Writing with PyRoom

Productivity Sauce
Nov 20, 2008 GMT
PyRoom is not the only distraction-free editor out there, but it does contain a few useful features that make it a good choice for users who are looking for a lightweight full-screen editor. For starters, PyRoom allows you to edit multiple documents, a boon for writers who have to work on several files simultaneously. While support for multiple documents falls under the nice-to-have category, word count is an essential tool for any writing professional. PyRoom not only offers this feature, but also allows you to check word count using a single key press. The editor also supports auto save, so you won't lose your work if you forget to save the file. PyRoom features keyboard shortcuts for all essential actions, and it comes with several visual themes. And if none of them tickle your fancy, you can easily create your own themes.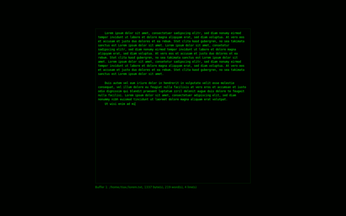 PyRoom is written in Python, and you'll find packages for Fedora and Ubuntu on the project's Web site. If you are using another Linux distribution, you can install PyRoom from source. Download the latest tarball of the application, unpack it, use the terminal to switch to the resulting directory, and run the python setup.py install command as root. You can then launch PyRoom from the terminal using the pyroom command.
Obviously, PyRoom won't replace a full-blown word processor like OpenOffice.org Writer, but it can prove to be a useful weapon in your writing arsenal.
comments powered by

Disqus

Issue 266/2023
Buy this issue as a PDF
Digital Issue: Price $12.99

(incl. VAT)