Sync Files with Dropbox

Productivity Sauce
Sep 15, 2008 GMT
Keeping files and documents in sync on multiple computers can be a real pain, but Dropbox offers a clever solution to the problem. This Web-based service allows you to seamlessly sync files and documents across multiple computers, and it offers a few other nifty features to boot.
The key component of the Dropbox service is a client software. Once installed, it sits quietly in the System Tray and syncs files and documents in the Dropbox folder in your home directory with the Dropbox service and all the machines linked to your account. This way, you can work with your files and documents on any linked computer, and changes made to documents and files in the Dropbox folder are automatically synced with the Web service and propagated to the other machines. This means that even if the Dropbox service becomes unavailable or you don't have an Internet connection, you still have access to your documents and can work on them.
Dropbox tracks revisions of each document, so you can easily roll back to a previous version of the document, if needed. Add to this the ability to create shared folders that can be accessed by other users, and you've got an excellent lightweight and user-friendly version tracking and collaboration tool. Dropbox also sports a simple yet functional Web interface which you can use to upload files and documents, create shared folders, track file and document activity, and more.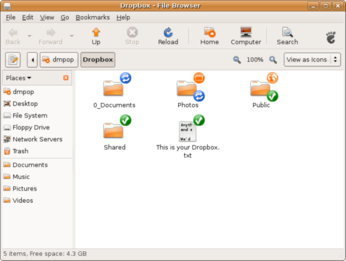 Getting started with Dropbox is easy. Start with creating a Dropbox account. Download then the client software for your Linux distribution (the service currently offers packages for Ubuntu and Fedora as well as a source code package). After installation, the Dropbox client helps you link the machine to your Dropbox account, creates the Dropbox folder in your home directory (you can change its location in the Preferences window), and performs the initial sync. You can then add, modify, and delete files and documents in the Dropbox folder, and the client takes care of the rest.
Dropbox adds icons to each file and folder in the Dropbox directory to make it easier for you to see its status: the Check green icon means that the document or folder is synced and up-to-date while the blue Sync icon indicates that the synchronization is in progress. To view all revisions of a particular document, right-click on it and choose Dropbox -> Revisions. You can then view the previous versions of the document as well as revert the document to any version you want.
Adding a shared folder is equally easy. Right-click on the folder you want to share (it must be inside the Dropbox directory) and choose Dropbox -> Share. Add then the users to whom you want to grant access to the folder, and you're done.
Comments
comments powered by

Disqus

Issue 272/2023
Buy this issue as a PDF
Digital Issue: Price $12.99

(incl. VAT)