Open Source Cellphone: Openmoko GUI with New Look
Aug 22, 2007
The Openmoko project has released a new style guide for the Open Source-based Neo1973 cellphone. It is aimed to facilitate use of the cellphone.
The Openmoko Project has once more joined forces with OpenedHand, and reworked the GUI and interfaces of the free Neo1973. According to Sean Moss-Pultz, this was prompted by various emails with suggestions and tips. The first applications to use the revised framework have already made their way into the Subversion repository as OM-2007.2. They include a dialing interface for the phone, a contact manager and a feed reader.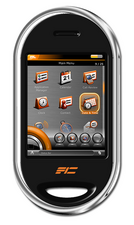 The Neo 1973, a Linux-based cellphone by the Openmoko project which is distributed by Taiwanese vendor FIC.
The new style guide is available from the OpenMoko Wiki. The biggest changes affect the the user interface. It has now been modified to match the hardware and shape of the Linux smartphone. Visual enhancements should help to improve the phone's performance, and reduce memory requirements. Various simplifications and modifications will help to make finger-typed input far more precise, removing the need to use a stylus. To improve clarity, the number of objects on the display has been reduced, and tabs have been introduced.
At the end of his message Moss-Pultz emphasized the fact that the complete software and especially the user interface are still under development. The project will be looking to draft a comprehensive roadmap for future software development in the near future.
comments powered by

Disqus

Issue 272/2023
Buy this issue as a PDF
Digital Issue: Price $12.99

(incl. VAT)