Ubuntu Opens Upstream Report
Sep 26, 2008
To improve communication with developers of Ubuntu delivered packages, distributor Canonical has, as a first measure, created the Upstream Report; a real-time website with a list of 100 projects with the most open bugs.
It will show how many of those bugs have actual linkage to a developer (what Canonical calls "upstreamable") and how many reports have already been successfully caught in the bug tracking systems of the original authors.
This means that for the first time, those responsible for the packages at Canonical will have concrete figures that will, for example, enable them to determine whether they have passed on 90 percent of bug reports for each project or which projects need more support due to poor quality. It will also shed light on how well the actual forwarding of bug reports to the developers – irritatingly enough, also called upstreaming – works. A comprehensive explanation about how to use the information available in the upstream reports can be found in the Ubuntu Wiki and on the blog of the programmer.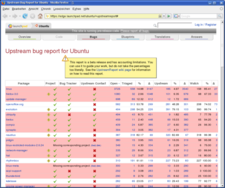 It's possible that the release of the still in beta version of the list is a first reaction to criticism from kernel developer Greg Kroah-Hartman at the Linux Plumbers Conference. According to Community Manager Jono Bacon's blog, the distributor wants to improve the future cooperation of individual Ubuntu projects. Exactly how they want to do this is still unclear.
Comments
Ubuntu Opens Upstream Report

To improve communication with developers of Ubuntu delivered packages, distributor Canonical has, as a first measure, created the Upstream Report; a real-time website with a list of 100 projects with the most open bugs. Because you really feel that the position of this website is high quality, it's quite possible you are thinking about using Linux as your number 1 or just a replacement Operating-system while you are basically done with your old OS. Despite the fact that the majority suppose that Linux is too advanced that it is of interest only to geeks, Linux-magazine.com will likely confirm that this outstanding os is realistically for almost everyone. It is certainly fun to learn about Ubuntu Opens Upstream Report.

Armandina Paire,
http://dentalinsuranceplanspro.com/ga-ent/suwanee-tne.php
comments powered by

Disqus

Issue 256/2022
Buy this issue as a PDF
Digital Issue: Price $12.99

(incl. VAT)