A guided tour of some notable and peculiar Linux distributions
Sitcom Linux
The Disney sitcom Hannah Montana, starring Miley Cyrus, was filmed between 2006 and 2010 and enjoyed great popularity among a mostly young and predominantly female audience. According to a survey in 2011, the character was more popular with girls than Barbie. There were movies and video games, and even the Linux distribution, which was not intended to be serious.
HML [43] was based on Kubuntu and came with KDE 4.2. The theme work went much further than that of Biebian, and alongside wallpapers, it included the GRUB menu, boot splash, and a logon screen (Figure 13). The installation wizard greeted our sore eyes with purple and neon green, and even the icons were partly customized. A YouTube video [44] shows HML in all its glory, with its creator writing: "I installed this so you don't have to."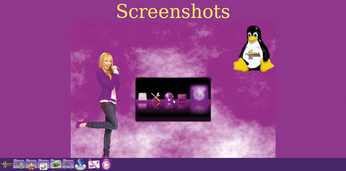 Life's No One-Trick Pony
If you have gotten used to the graphical duress of Hannah Montana Linux, Pony OS 3.0 also shocks with its loud-colored pony background and corresponding icons. Pony OS is not a standard Linux, however, since the creators use a custom kernel, so a link to the video [45] should suffice.
Special Agents
Although the Linuxes mentioned all seem to fit into logical categories, there are still some odd and curiously named candidates that are quite unclassifiable.
What exactly the makers of Hiweed Linux 2004 were smoking can no longer be forensically determined. Because it is a Chinese distro, however, the name is probably based on a linguistic misunderstanding. Anyway, the Linux has since been called Deepin [46]; the current version is 15.2. Deepin is based on Debian Unstable, and it uses the Deepin Desktop Environment, a specially developed desktop (Figure 14). Additionally, the developers have also built many tools specifically for the distro.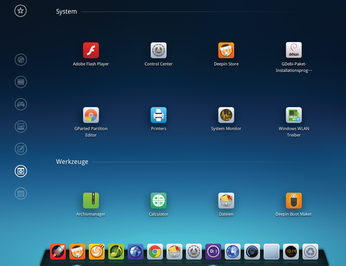 Yellow Dog Linux [47] bore that name for some time because it ran not only on Apple's power PC architecture, but also on Sony's PlayStation 3. It was suitable for operation on clusters. The last known version, 7.0, was released in 2012 and could only be used in conjunction with a fairly expensive IBM PowerLinux 7R2 server, which currently costs around $20,000.
comments powered by

Disqus
Visit Our Shop
Direct Download
Read full article as PDF: