FOSSPicks
MenuLibre 2.1.5
Even though many of us don't use a launch menu for every application launch, they're still useful to see what's installed and for accessing forgotten things. This means that their associated menu editors aren't the most exciting part of the desktop. In fact, there's a good chance you've either never loaded one up to play with or haven't done so for a very long time. But they do perform an important function, especially when you're at the mercy of your chosen distribution's menu hierarchy, or worse, the whims of applications like Wine that seem to hook them into every sub-folder. A menu editor needs to be quick, powerful enough to accommodate your launch requirements, and most importantly, Desktop Entry Specification compliant. The latter is important because it means you can use the same tool to edit your launch menu regardless of desktop environment or distribution.
This is what MenuLibre does. It has been tested with Budgie, Gnome, KDE (Plasma), LXDE, LXQt, MATE, Pantheon, Unity, and Xfce, and it lets you edit almost anything about the applications you find in the launch menu equivalents for those various desktops. You can change the icon for an application, for example, or set whether it runs within a terminal or is hidden from menus. You can also set the command to launch the application itself and test the validity of the desktop file generated by MenuLibre when you save your changes. General menu management is also possible, with buttons to move menu headings up or down through the hierarchy or sort alphabetically. It's a great tool that does everything you need, on almost any desktop, which is a great advantage if you like to make menus your own.
Project Website
https://bluesabre.org/2018/02/06/menulibre-2-1-5-released/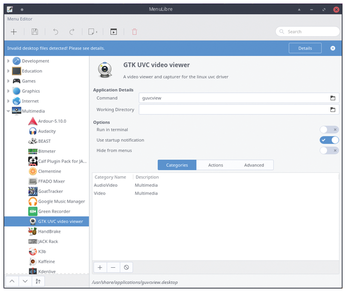 Process monitor
htop 2.1.0
There are few tools more effective than the venerable top command for process monitoring and control. This is because it can be run from almost anywhere that has a Linux command line and gives you an immediate and real-time overview of what processes are running; how much memory, swap, and CPU they're consuming; and the ability to kill a process by simply selecting it and issuing a command. Except that top is perhaps a little too venerable at times, with its minimalist and austere user interface written for 1984-era Unix rather than the cloud droplets of the 21st century. htop is a drop-in replacement for this fabulous command. While it adds lots of features lacking in the original, its most critical asset is that it's still being updated, as this release shows. Version 2.1.0 is a great upgrade on what was already an excellent 2.0 release, adding process monitoring geekery such as delayed accounting metrics for processes, DragonFly BSD support, improved meter styles for the visual overview of CPU usage, and better battery monitoring on Linux.
Launched just like top, and with shortcuts and arguments that offer the same kind of functions, most new users can simply continue with this new tool just as they would with the old one. Firstly, they'll get a much more reactive curses-based interface and overview of what's running. Unlike top, there's a function key-driven menu system that can be used to change the sort mode, kill processes, and get help. There are lots of other shortcuts, too – such as pressing c to see threaded processes or s for integrated strace. It's quick, powerful, and takes very few resources. If you haven't already switched from top to htop, version 2.1.0 is the perfect time to do so.
Project Website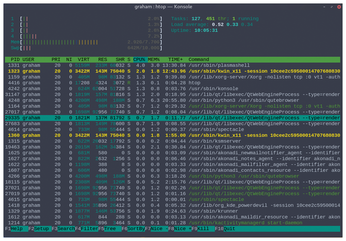 comments powered by

Disqus
Visit Our Shop
Direct Download
Read full article as PDF: