GameHub displays all your games in a single interface
Complications with Humble
Even a suitable version does not mean that the installation will proceed smoothly. Some games try to load ia32-libs from the package manager during installation. This compatibility layer for the operation of 32-bit programs on a 64-bit system has not existed for many generations of Ubuntu.
However, Ubuntu's Software Center does not send the associated error message to the interface during installation. You only see that the installation has failed, but not why. The problem can only be determined at the command line (Figure 4) when manually installing the package via:
<C>sudo apt install ./File.deb<C>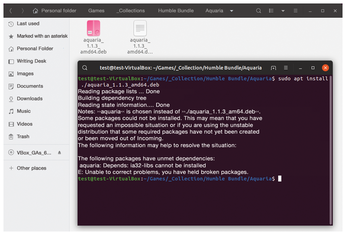 With other titles – especially those you install from a tarball – the installation works, but GameHub afterwards reports that it cannot find the executable file. In this case, you have to right-click on the game's tile to open its Properties (Figure 5).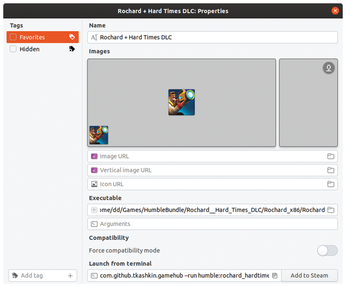 In the dialog box, click on the folder icon to the right of the Executable file field, which will open a file manager with the folder of the current game as its content. Select the executable file and close the dialog again with Apply. Then, as long as there are no further complications, the game can be started without any problems.
Conclusions
With its strategy of combining all gaming platforms and the games you installed yourself in a single interface, GameHub definitely grants the wish of many gamers for a better overview of their game collections. No matter whether Steam, GOG, or Humble, thanks to GameHub you can download the titles you purchased from the platforms off the web with just a few clicks and proceed to install them on your computer. With a little manual work GameHub becomes a pleasant and functional game library.
In practical terms, the feature for installing games proves to be particularly immature, although this cannot necessarily be attributed to GameHub. If a game is delivered as a DEB package, and the system's package manager fails without an error message because of the installation, then the blame lies firmly with package management. A similar problem arose in our lab directly in GameHub, where the 32-bit libraries required for starting a title imported via tar.gz archive were missing. Nevertheless, GameHub proves to be a useful addition to the gamer's desktop.
comments powered by

Disqus
---
Support Our Work
Linux Magazine content is made possible with support from readers like you. Please consider contributing when you've found an article to be beneficial.
---