Distros, documentation, and support
Fedora
Fedora has one of the most organized systems of documentation. Unfortunately, though, it is centered entirely on Fedora, making it less relevant to users of other distros. Its User Documentation page [9] covers various flavors of Fedora. The first two are the current and previous releases of Fedora (currently 32 and 31). Below them are links to Fedora IOT, SilverBlue, and CoreOS. Still further down are links to draft documentation for Rawhide, Fedora's development repository, and links for obsolete documentation. In contrast to the semi-chaos of Debian documentation, this arrangement makes for efficient searches.
At the bottom of the documentation page is information about the project itself. Information about the Fedora leadership, including the council and engineering teams, is given, as well the project's budget and its involvement in the Outreachy and Google Summer of Code mentoring programs. Several other distributions display similar information, but separately from their technical documentation, which means it is often harder to find than on Fedora.
You'll find forums listed on the Ask Fedora page [10]. Although English is the dominant language for the forums, five other languages are also supported. Sources outside the project on sites like Reddit and Facebook are also listed. For non-Fedora users, Fedora Magazine [11] (Figure 4) is often the most useful source.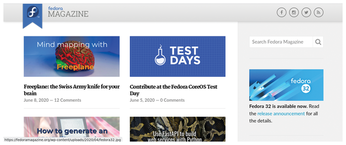 Linux Mint
Since Linux Mint is derived from Ubuntu and Debian, the documentation from these distributions can often help Linux Mint users. However, Mint maintains its own user, troubleshooting, and installation guides in two dozen languages [12]. The installation guide is particularly well-written, being divided into tasks. A developer's guide to the Cinnamon desktop environment is also available [13] (Figure 5). The main source of help for Mint is its high traffic user forums and IRC channels [14].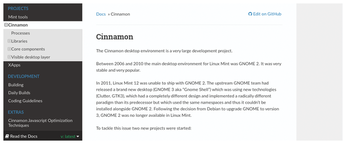 openSUSE
OpenSUSE places a high priority on documentation [15], although mostly for itself. It includes a number of guides in HTML, PDF, and EPUB, but, increasingly, the emphasis is on shorter, task-oriented documents [16] – including 125 how-tos. General information about the project includes an FAQ and guides to Zypper, YaST, and other tools specific to openSUSE. General information about Linux explains key concepts and acronyms and gives a few hints for migrating from Windows.
Increasingly, openSUSE's main emphasis appears to be on online support [17] (Figure 6). The Support portal divides online help into non-interactive, interactive, and bug tracking categories. Non-interactive includes the Support database [18], consisting of articles written by users. Interactive lists forums, mailing Lists, and IRC channels, all of which have medium to high traffic. Bug tracking is where you'll find the project's Bugzilla. Although mostly self-contained, openSUSE's support and documentation generally maintains high standards.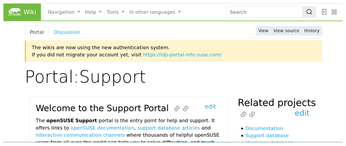 comments powered by

Disqus
---
Support Our Work
Linux Magazine content is made possible with support from readers like you. Please consider contributing when you've found an article to be beneficial.
---